Studies and research shown that many LGBT* people in Lithuania lack legal awareness therefore they tend not to be active in the democratic processes, they do not cooperate with the law enforcement and report hate crimes, and many of them neither know about the laws protecting them from discrimination.
Worrisome lack of legal awareness as well as interest in the local and international democratic processes, are issues that need to be addressed among LGBT* youth and allies, in particular taking into consideration the time-frame of the project. In fact, in October 2016, the National Parliament election will be held, and it is important for the civic society to hold their politicians accountable as soon as they are elected and purse advocacy action in order to promote human rights between new Parliaments.
Taking part in this EVS experience, volunteers not only will have the chance to learn more about human rights in general and LGBT* rights in particular, but they will be also involved in the local democratic processes and advocacy action. They will start developing a non – formal time-machine (a tool to step out of the box), to attempt and systematize non – formal education experience and artistic activism methods in the field of human rights.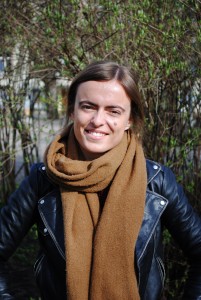 Name: Tatiana Kováčová
Country of origin: Slovakia
Position: EVS volunteer
E-Mail: tatiana@gay.lt
About the volunteer: Sveiki, aš esu Tania. I come from Slovakia and I graduated from British and American Studies program at the faculty of arts. Studying cultures and languages inspired me to work at the Slovak Embassy in Lisbon after my studies, where I assisted in consular help for Slovak citizens living in Portugal, and I also received basic training regarding diplomatic issues. Coming from an official structure like this, I felt the need to work with a smaller group of people with huge passion for a cause, and the LGL seems to represent exactly that. During my university studies I had a chance to represent my country at the European Youth Parliament session in Jerevan, Armenia as an international delegate, where we tried our hand at creating legislation and its defending before European Commissioners. Other than that I do translations, corrections and web content for my favorite organization that provides fair working conditions for people around the world. I'm fond of sports of all kinds, hiking, ballet, spending time with my friends and I feel very blessed to be working and learning with the amazing people at the LGL.
Name: Giordano Campanelli
Country of origin: Italy
About the volunteer: Since I can remember I've always thought that I will live through Art, it's one of the few certain things in my life. I graduated in March 2015 in Cinema, in a University of fine Arts in Rome. Then I had different jobs like an internship at the Opera Theatre of Rome and some as photographer on set. But I was looking to something that will be bring me out of the stressful Rome and that it would involve more. So, thanks to my sister that has already had an EVS experience, I begin to search EVS projects focused on art activities, and LGL project was the most interesting for sure.
Few years ago I started going at the meetings of the Mario Mieli LGBT Organization in Rome to discover the LGBT community issues in Italy and confront with other points of view. And so I started to be more conscious of the real situation and see things in other perspectives.
For this, I thought I could give my support at this organization through art; cause I'm really convinced that Arts (a drawing, a picture, a movie or any other art form) can always be one of the strongest "weapons" to tell, explain or share something important.
So here I am to give my contribution, to make new experiences and friends, to reach personal and common goals and to grow up as an active person in this mad world.
In particular, the volunteers will be involved in the following activities:
Taking part in Tallinn Baltic Pride 2017 (in Estonia) and host a workshop on the topic of their choice;
Helping to build and empower a community which would become an active participant of the civic and advocacy action;
Working on research and actions on EU law, human rights, advocacy and other areas;
Engaging in individual projects and ideas;
Organizing community building activities such as organizing community events, movies nights, workshop and meetings;
Information dissemination activities.
Links to project results:
ARTICLES:
EVENTS:
FACEBOOK EVENTS:
VIDEOS:
VISUALS: