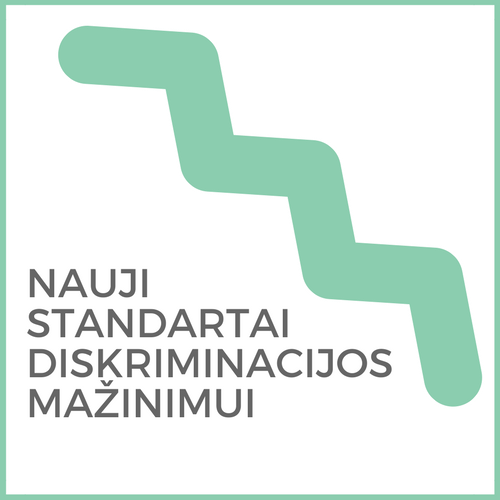 The project will be implemented together with the Office of Equal Opportunities Ombudsperson and the Human Rights Monitoring Institute. The National Equality and Diversity Forum members will also be involved in project's activities.
The main goal of the project is to combat discrimination in the labour market on the grounds of the Equal Opportunities Law by systemically raising business and public sectors and society's awareness in human rights area.
The project is executed in the framework of the implementation measure No. 07.3.4-ESFA-V-426 "For reducing discrimination" of the 7th key area "Promotion of quality employment and participation in the labour market" of the European Union Funds Investment Action Programme, approved by the decision No. C(2014) 6397 of the European Commission on September 8, 2014.
Project's objectives and activities:
To develop public sector, business and society's competences in combating discrimination.
The first task will be concentrated on raising public sector, business and society's awareness about how to combat and reduce discrimination. Organized actions will involve current and future participants of the labour marker, representatives from labour unions, labour dispute settlement institutions, human resource professionals, managers of various companies, employers, representatives from employer associations and non-governmental organizations working in equal opportunity and human rights areas. Interested parties will have an opportunity to develop their knowledge base through online courses, companies will be able to implement equality plans in their managerial systems, NGOs will be able to improve their competences in fund raising, advocacy and communication.
To ensure information access for socially vulnerable groups.
During the implementation of the requirements of the UN Convention on the Rights of Persons with Disabilities for the equality before the law in Lithuanian, ensuring information access is paramount because objective assessment of person's abilities in any area requires that information is provided in a form understandable to a person and that their answers to the key questions used for a final decision represent true will of a person. Because there is no standard for providing public information in an easily understandable form for all in Lithuania, we will hold discussions with information users and representatives from government's executive branch, prepare methodical recommendations on how to successfully transfer the standard to public service system, present the standard in training courses and release a publication with recommendations on how to implement the standard.
To raise public awareness about reducing discrimination.
The activities under the third task will be directed to Lithuania's regions. During the project period, we will organize informational events for at least 700 people, including theatrical events, exhibitions, photography contests and discussions. We will also publish articles on equality and non-discrimination topics in local and regional newspapers. We will also raise public awareness in this area on a national level. The campaign will be conducted in two parts: 1) the public will be informed about the issue; 2) the public will be provided with tools to combat issues of discrimination. These actions will be directed mostly to the society at large and the events will be open to all.
March 22nd 2018 the 5th anniversary of the National Equality and Diversity Awards was held at the Palace of Grand Dukes of Lithuania in Vilnius. All oscars were given to the most active human rights organizations, initiatives and people that tried to defend the freedom and integrity of individuals in Lithuania during 2017.
Awards were given to the following nominees:
The Breakthrough of the Year nomination – Erika Račkytė;
Gender Equality nomination – Network of Specialized Help Centers;
Barriers Overcome nomination –  Director of Lithuanian National Forum of the Disabled Henrika Varnienė;
Rainbow nomination – Human Rights Policy Coordinator of the LGL Association Tomas Vytautas Raskevicius;
Citizen of the Open Society nomination – Journalists of the newspaper "Širvis" which origin is from Širvintos region in Lithuania;
The Best Age – My Age nomination went to Gita Mickevičiūtė and her project "Grandparents' kindergarten";
The Dialogue of the Nations award went to the Polish Discussion Club;
The oscar for the Category of Religions and Beliefs went to Erikas Rutkauskas.
Congratulations to all winners and involved people, organizations and initiatives because each participation and good practice create better tomorrow!
More information about the event could be found by clicking this link:
http://www.lgl.lt/naujienos/valdovu-rumuose-isdalyti-zmogaus-teisiu-oskarais-vadinami-apdovanojimai/
The opening of the photo exhibition "Faces of Diversity" at the Palace of the Grand Dukes
The National Equality and Diversity Awards 2017 programme
http://www.lgl.lt/naujienos/nacionaliniu-lygybes-ir-ivairoves-apdovanojimu-2017-programa-jau-internete/
The National Equality and Diversity Awards 2017 – what does the Awards 2017 mean for the winners?
http://www.lgl.lt/naujienos/iteikti-nacionaliniai-lygybes-ir-ivairoves-apdovanojimai-ka-nugaletojams-reiskia-sis-ivertinimas/
Polish media about Polish Discussion Club Award
http://www.radiozagranica.pl/8/251/Artykul/357023,Litwa-Polski-Klub-Dyskusyjny-uhonorowany-
http://dzieje.pl/aktualnosci/litwa-polski-klub-dyskusyjny-laureatem-nagrody-rownosci-i-roznorodnosci
http://www.gazetagazeta.com/2018/03/polski-klub-dyskusyjny-laureatem-nagrody-rownosci-i-roznorodnosci/
http://wspolnotapolska.org.pl/wiadomosci_polonia.php?id=870%2F
The National Equality and Diversity Awards 2017 sponsors – it is important to appreciate people who contribute to the promotion of equality and diversity in Lithuania
http://nlif.lt/naujienos/2018/03/19/nacionaliniu-lygybes-ir-ivairoves-apdovanojimu-2017-remejai-svarbu-ivertinti-prie-lygybes-ir-ivairoves-puoselejimo-lietuvoje-prisidedancius-zmones/
2017: the breakthrough at the human rights movement of trangender people in Lithiania
http://nlif.lt/naujienos/2018/03/12/2017-ieji-translyciu-asmenu-zmogaus-teisiu-judejimo-proverzis-lietuvoje/
Visual disability and visual arts – how it could be compatible?
http://nlif.lt/naujienos/2018/03/20/regos-negalia-ir-vizualiniai-menai-kaip-tai-suderinama/
#MeToo in Lithuania – vaccine injection to the society
http://nlif.lt/naujienos/2018/03/16/metoo-lietuvoje-skiepu-injekcija-visuomenei/
Nations in Lithuania – evaluate the most ecouraging initiative for creating dialogue
http://nlif.lt/naujienos/2018/03/15/tautos-lietuvoje-ivertinkite-labiausiai-dialoga-skatinancia-iniciatyva/
Inconvenient people and why we need to vote for them
http://nlif.lt/naujienos/2018/03/09/nepatogus-zmones-ir-tai-kodel-reiketu-uz-juos-balsuoti/
Visible, but illegal – who?
http://nlif.lt/naujienos/2018/03/07/matoma-bet-nelegali-kas/
Sociologist. Unconventional religious movements challenge the openness of society
http://nlif.lt/naujienos/2018/03/05/sociologe-netradiciniai-religiniai-judejimai-meta-issuki-visuomenes-atvirumui/
More information: photos, videos, articles
http://www.lgl.lt/lgl/veikla/projektai/vykdomi-projektai/nacionaliniai-lygybes-ir-ivairoves-apdovanojimai-2017/
Culture centre of Kaišiadorys. The first event with Beata Tiškevič and Saulius Baradinskas – "Relationships without stereotypes"
http://www.kaisiadoriukc.lt/naujienos/309.html
Photography catalog "Faces of Diversity" is online
http://www.lgl.lt/naujienos/fotografiju-parodos-ivairoves-veidai-katalogas-jau-isleistas/?preview=true&preview_id=27037&preview_nonce=7ecc97c973 
Public information accessibility standart in an easily understood language is being created