A strong and motivated team of volunteers forms a cornerstone of LGL. We have both local and international volunteers from around the world. For example, several Erasmus students have decided to volunteer their time, implementing good initiatives and ideas from LGBT organisations in their home countries.
Volunteers are involved in all aspects of our organisation's work depending on their interests and skills, from assisting with advocacy and communications to organizing knitting workshops and film screenings. We welcome new ideas and initiatives. Volunteers have the support and guidance of our team and Volunteers' Coordinator.
If you have some free time and want to help us take forward LGBT rights in Lithuania, we would love to hear from you. Please contact our Volunteers' Coordinator at volunteers@gay.lt to get started.
Meet our current volunteers!
Name: Paulina
About the volunteer: I started volunteering in LGL when I was still in school. If I'm not wrong it was the spring of 2015. I was searching for myself, trying to understand who I am and why I am the way I am. I visited an event in "Rainbow days", which was hosted by Aliona and Tomas. By that time I have not considered volunteering at this organization but I was always a socially active person. I have tried volunteering in other organizations. Unfortunately there I had not found the sense of community and purpose. Probably by that point in my life LGBT+ problems were closer to my every day life. Later that year I started visiting the workshops organized by LGL and step by step I became part of the family. I enrolled in few social events, hosted workshops. I became the security coordinator of BALTIC PRIDE 2016.
Now I am a student and during my free time I try to do what I can in LGL. My upcoming job is EVS mentoring.
LGL is a place where I can help others and also improve my own abilities and skills. I am proud to be part of it.
Name: Nadia
About the volunteer: I first became interested in LGL's work after they organized "Baltic Pride 2013". Inspired by the pride march, I decided to volunteer in the organization. I took part in volunteer training in the beginning of 2014 and right after that started my volunteering work in LGL. Since then, I am an active volunteer in this organization. My work mostly consists of looking after the library, making badges and other small work in the office. I always try to participate in all LGL's organized workshops, seminars and lectures. And try to give a helping hand if needed. I am also our EVS volunteer's Veronika mentor. I enjoy being a part of LGL's team very much!
Name: Lili
About the volunteer: I have wanted to travel to Eastern Europe and learn languages since I was in high school and realized that in the United States, we learn little to nothing about modern life in this part of the world. Later, during my studies in Portland, Oregon, USA, where I specialized in Russian language, I began studying Lithuanian as a hobby outside of class. In 2014, I learned about Baltic Pride and LGL when I saw a link to Joana Estrela's book Propaganda on LBTQ women's site Autostraddle. When I found out that Baltic Pride would return to Vilnius in 2016, I decided to make an effort to focus on Lithuania, and was able to plan a trip here. I'm excited to get acquainted with Vilnius and improve my language skills while learning more about LGBT* activism.
Our former volunteers:
About the volunteer: In 2012 I started studying at the University of Applied Social Science where I will gain a bachelor's degree in Professional Advertising. As I was fond of helping people already on from an early age I was always very active in all kinds of social projects and events which focus on different human rights problems. In the association LGL I started volunteering in 2013 and since then I gained a lot of important knowledge and experience in the field of LGBT*. My general tasks include: designing and manufacturing posters and buttons, taking pictures, adjusting pictures, arranging and filming video clips, representing the organization in public events and promoting knowledge and informing about events in social media.
About the volunteer: From 2011 I studied at Vytautas Magnus University in the Faculty of Philology and there I received my Bachelor's degree in Lithuanian Philology in 2015. Since childhood I have been interested in learning foreign languages, especially English, and therefore I gradually began to immerse myself into the English-speaking expanses of the Internet. The information I found there, the knowledge I gained, and the personal experiences of various people that I got to sympathize with, helped expanding my world-view and seeing many things differently. I became interested in LGBT*-related problems, issues of feminism, sexism, gender identity, and other similar ideas. After newly re-evaluating the typical view of Lithuanian people towards such issues, a personal need arose to contribute to activities, which would help to diminish hatred, intolerance, ignorance and indifference in Lithuania. After finishing my studies, and while figuring out my future plans, I decided to join LGL as a volunteer, in order to try to accomplish my aforementioned intentions.
Name: Kendra
About the volunteer: I graduated in 2014 with a BA in International Comparative Studies. While at university, I worked alongside immigrants and refugees to help them learn English, and spent my holidays volunteering at a children's home in Vilnius. I also spent time in Kenya assisting health workers with HIV testing for at-risk populations. I was born and raised in California, but I found my true home in Lithuania, so I moved here the day after I finished university. I'm excited to be a part of the LGL team because I want to live in a society where everyone belongs.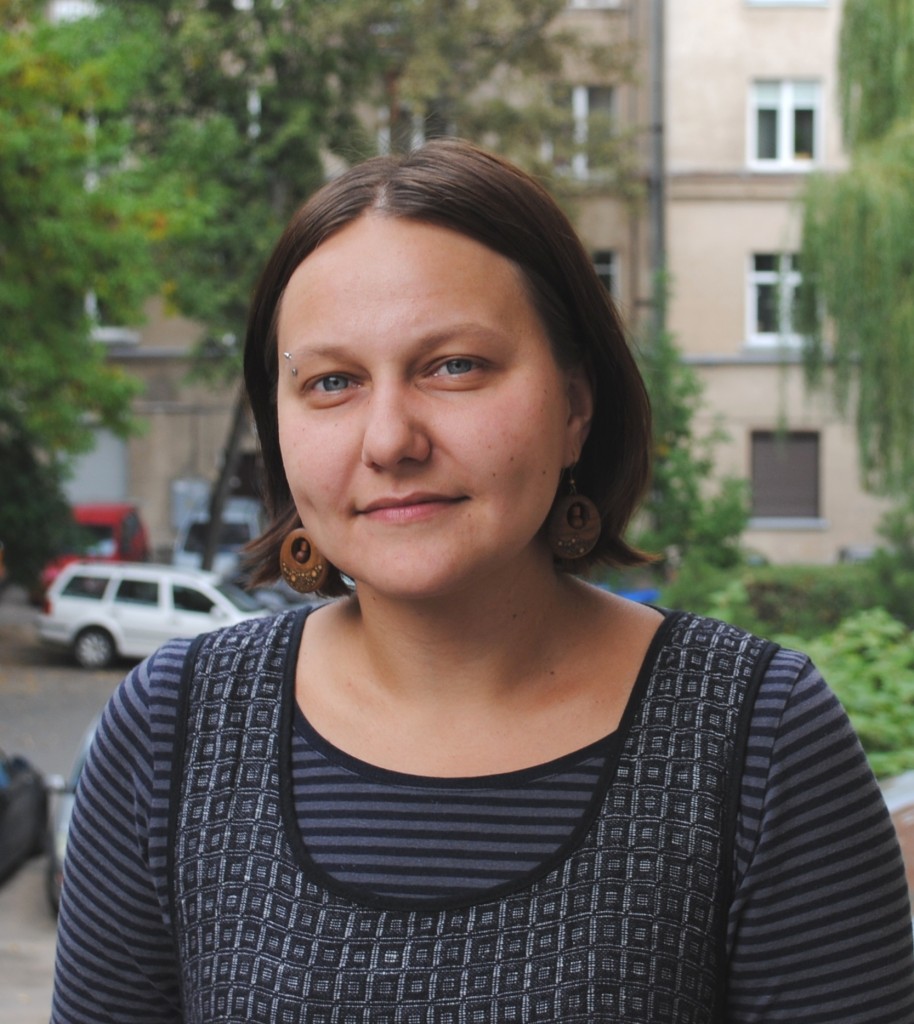 Name: Diana
About the volunteer: In 2012, I graduated from Vilnius University with a Master's degree in social work. For me, social work is inseparable from the human rights field. Human dignity and uniqueness are essential principles that I try to follow both in everyday life and professional field. Volunteering at LGL gives me the opportunity to contribute to significant changes in the society, to be part of it, and also helps me grow and learn everyday.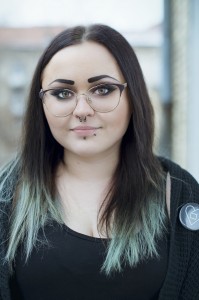 Name: Samanta
About the volunteer: I am a photographer and an artist, who earned her applied photography and media diploma at Vilnius Design College in 2014. In both photography and life, I try to start a discussion with society and through my work raise uncomfortable questions. I believe that art can help to open people's eyes and help them see what they tend to ignore in daily life. I believe that those who are most rejected and unaccepted in society can individually be beautiful, interesting and eloquent through photography. Therefore, my work often features those marginalized from society: the homeless, elderly, LGBT* individuals. In 2012, I started a project about transgender people 'By the way'. During this time, I had an opportunity to know individuals I photographed and their daily realities, problems, internal experiences that they hide within themselves. I also had a chance to create genuine friendships, thanks to which I could no longer remain indifferent to the pain of each transgender individual. I believe that by joining LGL's team I will help LGBT* people to become more visible, heard and understood, because it leads to a better tomorrow for all of us!
Name: Giedrė
About the volunteer: I have studied Cultural History and Anthropology in Vilnius University. I started volunteering in the East of Turkey as soon as I got my degree. I was working with local community on environmental issues there. Since I was always interested in refugee situation in Middle East, I have decided to volunteer in Gaza refugee camp in Jordan, where I worked with refugee women for six months. I started volunteering in LGL in September, 2014. I believe in Human Rights and the idea of volunteering itself, so I want to contribute as much as possible by raising public awareness in Lithuania.
Name: Sandra
About the volunteer: I study business management, but I'm more concerned not about business, but about helping people. I started volunteering in some non-profit organisations when I was 15 years old, and I've never stopped volunteering. This summer I started to pay more attention to human rights, so I decided to join LGL volunteers team. This was the best decision I made – I've met so many amazing people and together we are trying to make the world a better place.
Name: Tomas
About the volunteer: From 2010 I'm studying sociology at Vilnius university. In 2010-2013 I was actively involved in students representation bodies. In 2013 I started volunteering at LGL, I was involved in organization of Baltic Pride 2013. At LGL I mostly work with translations and text editing. It depends. Dangerously liberal.
Name: Jokūbas
About the volunteer: I started volunteering in LGL in July, 2014. Volunteering for me is an opportunity to get more knowledge about problem solving, teamwork culture, strategic planning and management of complex situations while working with target group. At LGL I'm cooperating together with staff and volunteers, contributing to the daily activities at the office – communication, logistic, advocacy, event  and procurement organisation. Why I chose LGL? I wanted to get involved in the movement of a society whose priority directions are recognition of diversity, inclusion of vulnerable groups, promoting equality and reducing discrimination, and, most importantly, building safe and friendly space for LGBT* people who can live freely and openly!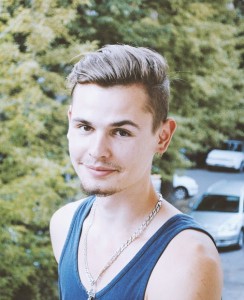 Name: Ignas
About the volunteer: I am a freshman in Vilnius Academy of Arts. Before that, I was studying graphic design for one year, but then realized, that my real calling is art.
I have a bohemian personality, I'm also free, independent person who is not always understood and accepted, but always trying to remain a real man. I have accepted myself the way I am at the age of only 18 years old. Being in a warm and accepting environment of LGL, I can be myself, enjoy the inner harmony and know that I am not alone.
About the volunteer: As a thumb needs other 4 fingers to make a fist, fighters for LGBT rights need supporters. I rely on my collegues in the organization and want to do something important. I am an analyst both at work and in my spare time
Name: Megin
About the volunteer: While I am working in Lithuania, I also volunteer for LGL because I believe in human rights and equality for ALL.
For LGL, I am involved with the LGBT community work. I am running a workshop series 'closet monologues', working on LGBT identity, self-reflection and empowerment.
About the volunteer: Bachelor in Social Work at University of Rome "La Sapienza" (in progress), currently Erasmus in Social Policy and Social Work at MRU (Mykolo Romerio University) in Vilnius. Background experiences in social/humanitarian fields in Italy and abroad for different associations and NGOs.