We offer full-time and part-time internships to students from various fields, for example social work, communications and law.
An internship at LGL will equip you with knowledge and skills related to working in a non-governmental organisation, LGBT rights advocacy, and community work.
If you are interested in doing an internship at LGL, please contact our Volunteers' Coordinator at volunteers@gay.lt to find out more.
Our former interns: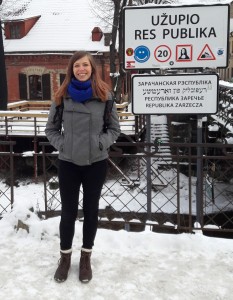 Name: Josie Schäfer
Internship period: February 2018 – June 2018
About intern: I'm an Erasmus+ student from Germany and I'm spending a semester in Vilnius to study social work at Mykolas Romeris University. I've been interested in LGBT* topics for some time but I've never actively participated in any advocacy or community work before. My home university requires me to do an internship while abroad and when I heard of LGL I thought of it as the perfect opportunity to gain some experience if both the LGBT* field as well as in community work. I also want to learn about how advocacy work works in practice, since I've only seen the theoretical side through my studies.
I wanted to work in this field among others because I know the LGBT* community isn't as accepted in Lithuania as it is in Germany, and I want to help better the situation for queer people here. Since I'm doing the internship while studying it will only be part time, but I'm very excited to be organizing the Book Club during my time here and to help with any other projects!
Name, surname: Cintia Nogueira
Internship period: October 2017 – December 2017
After completing a bachelor's degree in international relations in Portugal at the University of Porto, I decided to have several experiences in different countries in order to understand the path I would like to follow. In France, at the Université Paris-Est Créteil, I started a master's degree of international humanitarian action last year. I realized with time that my life would go through support and solidarity with those who suffer around the world. Aware of the difficulties and struggles that many people are experiencing daily, through this training, I intend to become professionalized in the world of humanitarian aid and to put myself side by side with those who fight for the human rights.  It was also in France that I began to approach the LGBT community by working with human rights organizations through, for example, advocacy actions such as human rights classes that I had the opportunity to give in basic and high schools.
As long as there are people who cannot have access to their rights and their freedom, as long as there is discrimination, prejudice and violence, people and organizations like LGL will be needed to give a voice to those who do not have it. That is the reason that brought me here: to know that LGL works daily to protect the LGBT community, to develop projects that involve and defend it. As an intern over the next few months, I want to take part in those projects and activities as well as to assist team members in all of their ways to continue this fight.
Name, surname: Ingrida Kaulinytė
Internship period: September 2016 – January 2017
About the intern: I am a 22 years old human rights student at Lund University (Sweden). I am interested in all human rights issues but decided to dedicate my time and energy to LGBT rights. I have lived and studied in neighboring Baltic Sea state, Sweden, since I was 13 and therefore can fluently speak Swedish, English and Lithuanian. There is no universal anti-discrimination convention that would protect LGBT people, which is one of the reasons I wanted to work for LGBT organization. I want to contribute in any way I can in the achievement of UDHR goals of unity, freedom and equality. Since Lithuania is my home country, I deeply care for it. I want to help in creating a tolerant society and a truly free country where everyone will have a free will to choose and realize whom they want to be.
Name, surname: Valentin
Internship period: June 2016 – August 2016
About the intern: I heard of LGL when I was looking for LGBT* friendly workspaces to do an Internship in. I am a student at a vocational college of design in Germany and I was offered to pass my Internship abroad. When I found out that the "Baltic Pride 2016" would take place in the same period, I became enthusiastic about working here. I have already been part of different pride marches back home and I am volunteering for a film project at a LGBT* youth center at my home town. I am mostly going to be responsible for some new shop designs, brochures and other smaller creative work at LGL. During my internship, I hope to learn more about LGBT*+ community and culture in Lithuania. And I wish to learn more about the structure of such organisations like LGL.
Name, surname: Roberta Matusevičiūtė
Internship period: January 2016 – June 2016
About the intern: I am studying social policy at Vilnius University since 2012. Even though I am new in LGL, I have been interested in LGBT topics for a long time. I think that participation in association's activity will help me not only increase my knowledge about the human rights and reducing homophobia but will also let me contribute towards making various policies more favorable. Social policy, in my opinion, is inseparable from equality for all social groups that is why I am happy to be an intern in organisation which works for the sake of one of the most vulnerable social groups.
Name:
Fine
About the intern:  I am studying culture management in my home town, people usually understand it as something  like  organizing cultural events. But actually it's much more, my field will be internal and external communication in organization. It is the most important thing as well for an organization like LGL, as I had already chances to catch some Lithuanian culture in my voluntary year, two years ago. That time I decided to stay in a small village working for a regional park.
This time I want to do something in a field I am able to do, organizing and communicating.Managing events, getting to know other human rights organizations, building up partnerships, these are my plans here for upcoming months. But anyway there is always a chance to come back. That's what I will do!