The executive director of the National LGBT rights organisation LGL Vladimir Simonko can rightfully be called a chronicler of the LGBT rights movement in Lithuania. In 1995 being the first one in Lithuania to openly speak about his sexual orientation together with his partner Eduardas, today he opened the carefully guarded archive of Lithuanian publications in the library of the LGBT Community center, where LGBT community members' coming out stories are collected.
How did open speaking about their sexual orientation impact the personal lives of the first LGBT activists?  What encouraged the increased openness of LGBT people? The executive director of LGL Vladimir Simonko answers these questions while looking through newspaper clippings in the organisation's archive.
– Could you talk about how criminal liability for same-sex relationships was repealed?
– The phenomenon of public coming out in the LGBT community started in 1995, soon after Lithuania regained independence. It's hard to say why that took four years. Personally the independence gave me hope that our community could be free as well. But the road to LGBT community's openness was longer.
Unfortunately, Lithuania was the last of the three independent Baltic states to repeal criminal liability for relationships between persons of the same sex (Article 122 of the Criminal Code of 1961). Estonians repealed this section in 1991, Latvians – in 1992 and Lithuanians did it on July 2, 1993. This article of the Criminal Code left a deep scar in our community and programmed a big fear of being open about our sexual orientation.
After the restoration of statehood Lithuania delayed repealing criminal liability for voluntary sexual intercourse between men. This article was only repealed when trying to join the Council of Europe. While wanting to become a member of the Council of Europe, Lithuania had to do a lot of homework, including assuring minimal human rights standards.
What's interesting is that Lithuania decriminalised homosexuality quietly and without any public discussion. There was no internet back then and if you wanted to find out about law amendments, you had to go to the library and ask for the latest issue of "Valstybės žinios". So for a long time the LGBT community in Lithuania simply didn't know that their identity was no longer persecuted because it wasn't reported by the press nor radio or television. I am certain that this was being done intentionally because nobody in Lithuania wanted the LGBT community to be free.
– How was homosexuality persecuted in captive Lithuania?
– It's important to highlight that the previously mentioned article of the Criminal Code didn't apply to relationships between homosexual women. However, the culture of intolerance in our society was so strong that lesbian or bisexual women didn't speak openly about their sexual orientation. It was publicly declared in the Soviet Union that homosexuality simply didn't exist in the Soviet system.
During the "perestroika" the warming of relations between the US and the Soviet Union was accented. V. Pozner's talk show appeared in that period where members of the US and the Soviet Union societies would discuss with each other. During one show people from the US asked the participants from the Soviet Union about sex. They retorted that sex "doesn't exist" in the Soviet Union. So sexuality in Lithuania and the entire Soviet Union was a taboo.
In the early years of independence LGBT community's fear of coming out related to the inheritance of the Criminal Code article from Soviet law. An entire generation grew up with this article and even after repealing it homosexuality was often associated with what is against the law. So at that time a part of the community members didn't feel a need to come out because they had already found their formula of surviving in our society.
It shouldn't be forgotten that during the occupation of Lithuania militsiya [the Soviet police] made lists of homosexual men that were used to blackmail these people. Homosexual men were also "treated" in psychiatric hospitals. This social legacy impacted independent Lithuania's life as well, since for a long time the persecution of LGBT people was a norm in Lithuania.
To this day a large part of society is still convinced that homosexuality is a "disease" that appeared after renewing diplomatic relations with the West. In these circumstances a part of our community either dreamed of escaping Lithuania or gave in to the pressure of society and created a family with a person of the opposite sex. There were also those who didn't put up with that. We called them activists.
In 1994 during the first "ILGA" conference in Nothern Europe that took place in Palanga, for the privacy and safety of the local LGBT community we were forced not to allow the press into the event.
– How and when did LGBT people first publicly come out?
– The first public acts of coming out were made in 1995. They were encouraged by the civic position of the newspaper "Lietuvos rytas". Press separated very clearly into tabloid and serious media in that year. I'd like to thank the journalists of "Lietuvos rytas" of those times because my and my partner Eduardas' interview didn't become a cheap sensation. Journalist of "Lietuvos rytas" Audra Telksnienė showed her initiative to bring the topic of homosexuality to light with real faces and without, as it was usual at the time, fake names and surnames.
Me and Eduardas, as the pioneers of LGBT rights activism in Lithuania, didn't want to be among the anonymous and for the first time in Lithuanian history revealed our life stories without hiding our names, surnames and faces. On the international day of coming out "Lietuvos rytas" published our story in the first page of the biggest print run of the Saturday number. That sparked a true revolution in both our community and society.
I'm happy that a few months after this article a lesbian couple came out too: Aušra and Irena. It showed that the LGBT community exists in Lithuania, that it is brave, wants change and isn't "imported" from the West.
Soon after that a journalist of "Lietuvos rytas" Dalia Gudavičiūtė also started interviewing famous members of the LGBT community coming to Lithuania. That gave additional visibility to our community.
– What was the cost of such a public coming out in 1995?
– Lithuania was indeed different in 1995: hatred wasn't being punished and the sense of danger was present everywhere and at all times. Even in such a reality we weren't afraid to reveal our sexual orientation and we didn't know what to expect. We didn't have to wait long though. After going to a show "Šeštadienio pokalbiai" hosted by Audrius Giržadas to speak about homosexuality together with Irena and Aušra, we started being recognized. We were young, naive and asked ourselves: "Who if not us?"
Soon after the show I was beaten up in a public place: at a store. We got hate notes from our neighbours. We were called "faggots" in the street, threatened to disappear or we'll be beaten up. Doorbell rings woke us up at night. At that time the watching rate of television was record high, so after the show we were recognised in the street for three or four years.
At one point we couldn't leave our home because of constant harassment. One time we decided not to put up with it anymore and called the police. The police came and arrested these tormentors. I still remember how angry the hatemongers were while being lead out that one can be arrested "for this". They couldn't believe that a person can be arrested for harassing people because of their sexual orientation. The memory of the investigator's advice to "move to an arts district" for safety also hasn't waned.
Irena and Aušra also paid a significant price for coming out. Their neighbours wouldn't leave them alone, they cut up the tires of their car. We were litigating together with Irena and Aušra and we reached the Supreme Court. The judge called this hate crime "domestic hooliganism". The hate monger only paid a fine for an act of disturbance of public order.
So the first same sex couples who publicly revealed their sexual orientation were persecuted. As society became more free, coming out became a bit different.
– Did many LGBT community members come out after your interview?
– It's a shame that soon after it some renowned LGBT community members' sexual orientation was made public without their consent. In the year 2000 a press group "Respublika" started publishing a new daily newspaper "Vakaro žinios", which gathered its readership with a series of articles called "They are called gay".
In every publication there would be articles in the first page where without the subjects' consent and in a way that didn't adhere to the ethics of journalism the subjects' sexual orientation would be exposed. It must be pointed out that famous people who had nothing to do with the LGBT community were also called "gays" by this daily.
It was an extremely harsh breach of personal privacy that brought a lot of fear to the LGBT community. The yellow press shamelessly came to the market by kindling hate towards our community. I'm glad that there were some people among the subjects of these articles who had the courage to defend their breached rights in court.
This event was very painful and showed that our community can be very vulnerable. After this article series coming out of the LGBT community stopped.
– How did the coming out process change later?
– There was no collective coming out of LGBT people in later years. Some famous people's sexual orientation was exposed by media. Certain activists of our community were forced to leave the active movement after revealing their orientation. I remember what one leader of a lesbian organisation had to go through. Her partner had a child from her first marriage. Her ex-husband achieved child custody in court by arguing that his ex-wife lives with a woman. It is a unique case that doesn't have a precedent in court practice, since usually child custody is given to the mother after divorce.
The coming out process is not as fast in our society as I wish it was. It makes me happy that quite a few young LGBT people have revealed their sexual orientation in the last decade and the LGBT community is becoming more and more visible in our society.
– What could encourage bigger openness of the LGBT community in Lithuania?
– A part of our society is still going through a value shift. Even though slowly, our values are changing. I hope that more and more LGBT community members will come out not only to their family members, but their colleagues as well. After the judgement of the Constitutional Court there is a noticeable interest in the possibility to register a civil partnership with a citizen of a foreign country. I hope that soon same-sex couples will be able to register a civil partnership in Lithuania too and will build their future in their home country.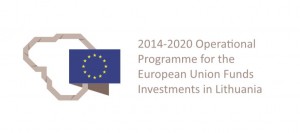 The article was prepared in the framework of the project "Change in Business, Public Sector and Society – New Standards for Reduction of Discrimination". The project is implemented by the Office of the Equal Opportunities Ombudsperson, partners are the public institution Human Rights Monitoring Institute and LGL Association.