LGBT persons and events in neighbouring countries of Lithuania, including Estonia, are under attack by the ruling parties. Representatives of the LGBT Association in Estonia say the community is intimidated, and Vladimir Simonko, Executive Director of the National LGBT rights organization LGL, warns that what is happening in Estonia is a serious signal to us that just one day is enough to take a step backwards.
Recently the Estonian LGBT Association made a public statement on its website that both the association and the LGBT+ community in the country have suffered attacks.
"In the last few months, we have experienced active attacks against both the Estonian LGBT Association and against the LGBT+ community in Estonia. The purpose of these attacks is to stop the association from proposing projects for public funding and to silence and marginalize the LGBT+ community," Uljana Ponomarjova, the press representative of the Estonian Human Rights Centre, told 15min. According to information published by the association, there is a climate of fear among members of the community.
"Almost every day, different news channels publish the opinions of the far-right government party EKRE such as "EKRE wants to stop state funding of the LGBT association" or "EKRE: funding the LGBT Association with money from the gambling tax is unlawful", not to mention the official news channel of the party, where there are many more writings in a much more formidable tone", is written in the association's statement.
According to the association, members of EKRE ruined an event in Pärnu in October, which aimed to introduce the association's work to the local community. In addition, according to the statement, in autumn members of EKRE in Tartu and Pärnu held a demonstration against LGBT+ people. The association says that EKRE's rhetoric is becoming increasingly aggressive and the potential of members or supporters of EKRE coming to LGBT+ themed events has spread fear among LGBT+ people. In addition, the Foundation for the Protection of Family and Tradition (SAPTK) has started a petition against the association that is, as is indicated in the statement, based on disinformation, and the NGO Ühiskonnauuringute Instituut has conducted a survey about the association's state funding with questions based on false claims. The association named this is as another attack against it.
"What is happening in Estonia is related to a party that openly declares its hostility to the LGBT community coming to power. And this is already becoming a part of the political agenda. This is completely unexpected, as for a considerably long time we have seen Estonia as a progressive country compared to Lithuania. We always had to try to catch up to our Baltic sister. Sadly, we need understand that the situation of human rights in Eastern Europe is changing dramatically. And specifically with regard to the rights of LGBT people, this diminishing of human rights is taking place in the neighbouring countries as well; we are talking about Estonia, where everything turned upside down in a day," said Vladimir Simonko, Executive Director of the National LGBT rights organization LGL. According to him, Estonia's case shows that even after reaching a certain level of protection of human rights, it is possible to return to the starting point very quickly – only in a day.
EKRE disrupts events, the organizers are forced to change locations
Kristiina Raud, the press representative of the Estonian LGBT Association, mentioned a few events that were disrupted by members of EKRE.
In September, a film screening was organized in Pärnu during the Festheart Film Festival. Raud said that local EKRE members held a "public meeting" near the venue to intimidate guests, organizers and the owner of the venue.
"Our organization organized an event for the local LGBT community in Pärnu to discuss current issues, meet new people and learn more about how we can support them. People from EKRE broke into the event: they broke the peace, loudly insulted us and simply made the space unsafe for those who came. The organizers – three of our members – called the police and moved the event to another place where everything successfully continued," Raud said about the incident.
Estonian Human Rights Centre's press representative U. Ponomarjova also recalled EKRE's regional politicians ruining an event in Pärnu. She also highlighted a case where EKRE representatives held a protest in Tartu.
According to K. Raud, on November 1 there was a demonstration in Tartu organized by local EKRE members and supported by party members Pärnu. Allegedly they protested an LGBT event organized by young workers, not the association itself. This event also had to be moved to a different secret location beforehand. The centre where the event was originally supposed to be held cancelled all other events as well because of the insecurity that the protesting caused.
"This is unacceptable. It's a danger to both public safety and the safety of the LGBT+ community. Each of us should be able to feel safe. Moreover, the Constitution prohibits discrimination or violation of minority rights. This kind of behaviour from a political party sends a message to ordinary people that it is normal to hate or insult someone because of their sexual orientation. It poses a danger of violence and a threat to the community," said U. Ponomarjova.
The Executive Director of LGL V. Simonko said that the tactics introduced in Estonia are similar to those in Hungary. During a visit to Budapest with his colleagues they attended a meeting with LGBT activists; the opposition showed up at the community event, interfered with it and finally threw some yogurt right to the faces of the hosts. The police were called, but when the officers ceme, there was nobody to arrest anymore.
"A very similar formula has been introduced in Estonia – they come to public events for the LGBT+ community and prevent them from going on normally. Our partners are forced to change the venues and are afraid to announce it publicly, which essentially creates a very daunting atmosphere. The LGBT community of our partners is simply intimidated," said V. Simonko. According to him, democracy and human rights in the Baltic countries are at risk. "Maybe this signal should be a lesson for all of us," said the Executive Director of LGL.
Financial support is a micro-part of the budget
K. Raud pointed out that EKRE's claims that the LGBT group is receiving too much financial support or that it is illegal in the first place are incorrect.
"The Estonian LGBT Association is the only organization of its size in the country. We received state funding from the Lotteries and Gambling Tax Board, which was provided by the Ministry of Social Affairs. All organizations applying for this type of funding must provide a project application. Eligible applicants receive funding. We act in the field of equality and are implementing the priorities set by the Government," she explained. According to K. Raud, the work of the association is important to many people and communities, but only receives of 0.002 percent of the Ministry of Social Affairs' budget.
Disinformation and hatred are spread through the media
K. Raud also spoke about EKRE exploiting the media for its own goals. According to her, the main Estonian media channels, obviously, do not support EKRE. However, the party does have its own news portal, Uued News, which publishes hostile and incorrect content. In addition, the Foundation for the Protection of Family and Tradition (SAPTK) has its own news portal, Objektiiv, which also, according to Raud, spreads disinformation and incites hatred in support of EKRE.
According to the press representative of the Estonian Human Rights Centre U. Ponomarjova, publications related to the LGBT+ community can be found almost daily in the media, most of them adopting 222the aggressive right-wing approach.
Public sentiment varies
What are the attitudes of Estonian society in this context? According to K. Raud, the attitude towards LGBT people depends on the place, experience and so on.
 "I can say from personal experience that in larger cities like Tallinn, Tartu life among young people can be pretty good, but there are places and communities where there is uncertainty and misunderstanding of LGBT issues, which determines the communities' attitude. Unfortunately, when we see increasing support for LGBT people, we also see a growing divide between those who support such people and those who are against them. Such division is part of a global phenomenon and, in my opinion, it's one of the biggest problems we are facing," she said.
According to V. Simonko, the latest Eurobarometer survey of 27 countries revealed a negative change in Estonian society regarding LGBT issues, as it did in Lithuania, Latvia, Romania and Bulgaria.
"We are the last five. A change in public opinion is underway. I don't think I will be surprised if the next Eurobarometer shows a negative change. If a party that openly declares itself hostile to LGBT people wins, then obviously somebody is voting for them. It's also a survey of a certain part of society," says the executive director of LGL.
A signal to Lithuania
K. Raud pointed out that events in Estonia are important for Lithuania as well. In a broad sense, oppression and discrimination in one place in the world affects everyone, especially historically marginalized communities, like the LGBT community.
"As they say, neither of us is free until we are all free. In the local sense, the Baltic countries are small, and unfortunately, they are (increasingly) dealing with similar issues. Therefore, we are doing empowering and educational work together, sharing experiences, comparing knowledge, and supporting one another. In addition, it's clear that forces aimed against LGBT equality are also opposed to the equality of other groups, so it's not something that only affects LGBT people," she said.
According to Simonko, the situation in Estonia is a red light for us: "This anti-gay propaganda reaches certain ears, and unless our politicians do their homework and spread positive information about LGBT people, things can change very soon." According to the executive director of LGL, an interesting geopolitical situation is forming.
"We have very interesting neighbours in the East, we have neighbours in the West. The changing situation in Estonia makes us worry and anticipate actions that may also come to Lithuania if we don't get it together in time, because that desire to be friendly with Mr Kaczynski seems to me to be a strong signal to civil society in Lithuania that some ideas can be transported to Lithuania very soon."
He said this referring to what is happening in neighbouring Poland.
Since the beginning of the year, 87 localities (regions, counties and municipalities) have passed bills or have declared themselves "LGBTI-free" or "free of LGBT ideology". These initiatives are part of a broader ensemble of attacks against the LGBTI community in Poland, such as growing hate speech by public and elected officials against LGBTI people, attacks and bans on Pride Marches or awareness-raising programmes and actions such as Rainbow Friday. Read more about it here.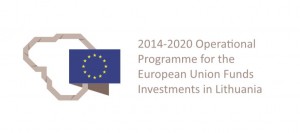 The article was prepared in the framework of the project "Change in Business, Public Sector and Society – New Standards for Reduction of Discrimination". The project is implemented by the Office of the Equal Opportunities Ombudsperson, partners are the public institution Human Rights Monitoring Institute and LGL Association.