Gabriella Calleja, head of the SOGIGESC unit of the Human Rights and Integration Directorate in the Maltese Ministry for European Affairs and Equality, who took part at the National Forum on Human Rights on December 10 at the Martynas Mažvydas National Library of Lithuania, is certain that enforcing equality in the country positively affects all members of society.
Since 2013, Malta has dramatically transformed its image in the area of ​​LGBTI rights enforcement. Bills on civil union and cohabitation, as well as laws establishing the fundamental rights of transgender and intersex people, have been passed in the country. Malta has become the first country in the world to pass a law protecting intersex people's rights and to prohibit harmful practices of "curing" homosexual people. In July 2017, large majority of the Maltese Parliament voted for the legalization of same-sex marriage.
In this interview, the head of the SOGIGESC unit of the Human Rights and Integration Directorate in the Maltese Ministry for European Affairs and Equality Gabriella Calleja will try to explain the Maltese phenomenon and how Catholic Malta began to support the enforcement of LGBTI human rights.
The world has seen the Maltese embrace of LGBTI rights with great admiration. Could you please try to define the reasons behind the Maltese phenomenon? How did you manage to reach the 1st place on the ILGA-Europe Rainbow Map so quickly?
The rapid changes to Malta's LGBTIQ equality legal and policy framework are a result of a strong civil society and political will. Without an LGBTIQ movement working to raise awareness and advocating for change and politicians willing to take forward the LGBTIQ equality agenda even when this did not enjoy majority support, the changes would not have been possible.
Like in Lithuania, the Catholic Church plays an important role in Malta. Which arguments could be used in trying to establish a dialogue with conservative part of society in trying to ensure LGBTI human rights?
The most important dialogue between the LGBTIQ movement and the Bishops happened because of the efforts of LGBTIQ people of faith and parents of LGBTIQ children and their religious leaders. It is their efforts that largely served to build bridges between the LGBTIQ community and the leaders of the Catholic Church. They were willing to tell their stories as LGBTIQ people for whom faith was also important. They also invited a number of well-known theologians such as James Alison and Sr Jeannine Gramick who could affirm and speak to both of these identities.
At the moment, Lithuania provides no legal recognition of gender and same-sex relationships. What advice could you give to Lithuanian Government, which is lagging behind when it comes to ensuring LGBTI human rights?
I would say that when a country grants equal rights to all of its citizens all of society benefits. Access to legal gender recognition based on self-determination is important to those who need such laws and harm nobody. Denying such rights on the other hand makes trans persons vulnerable to discrimination and violence. In the same way, the legal recognition of diverse family forms only serves to acknowledge what already exists. People will not stop loving each other or aspiring to become parents because the law does not acknowledge their relationship or family. Expanding our definition of family makes for a more inclusive and just society.
What is your mission as Head of the SOGIGESC Unit within the Human Rights and Integration Directorate, Ministry for European Affairs and Equality of Malta?
My role is to ensure the implementation of the government's LGBTIQ Equality Strategy and Action Plan 2018-2022. We do this by collaborating with a number of other Ministries and departments as well as services providers in the private sector to ensure mainstreaming of LGBTIQ equality across all spheres of life.
Could you tell our readers more about your experience as the Coordinator of the Malta LGBTIQ Rights Movement between 2007 and 2018? What is the difference between your positions as an LGBTI human rights activist in an NGO and the Maltese Government?
The role of civil society is to work towards an organisation's mission and vision and to raise awareness and advocate for change. As coordinator of MGRM my role was to steer the movement in the right direction and to keep LGBTIQ equality on the political agenda. As a government official, while I am able to make use of the knowledge and expertise I gained as an activist, my main task is to develop and implement government policy.
In 2011-2014, you have served as co-chair of ILGA-Europe. What have you learned from activism on a European level? What other countries could learn from Malta?
In my first years as an activist, being part of a European LGBTIQ movement was very important. We learnt a great deal from the sharing of good practices and the experiences of other LGBTIQ organisations across Europe. Participating in conferences and study visits helped us to grow as a movement and to be more strategic in our approach. In time, we were also to serve as an example to and to share our experience with others. What works in one country may not work in another. However, being clear about what one wants to achieve, persevering and seizing the opportunities when they present themselves are perhaps three lessons that are universal and that can be applied anywhere.
You have participated in the Baltic Pride 2019 in Vilnius. What impressions did you have from your visit in Lithuania?
I was in Lithuania around 2007 for the ILGA-Europe conference, and I was struck with how much more open and accepting Lithuanian society seemed to have become in just over a decade. There were so many young people participating in Baltic Pride. This is a good sign and augurs well for the future.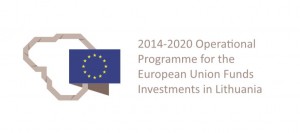 The article was prepared in the framework of the project "Change in Business, Public Sector and Society – New Standards for Reduction of Discrimination". The project is implemented by the Office of the Equal Opportunities Ombudsperson, partners are the public institution Human Rights Monitoring Institute and LGL Association.