Two married women fall in love with each other, divorce their husbands and live for fifteen years without openly speaking about it. Married in 2000, these two women suddenly got everyone's attention. This is the love story told in a book "Jóhanna and me" (icelandic Við Jóhanna) by Jónína Leósdóttir, a journalist and a writer, and her wife Jóhanna Sigurðardóttir, the former Prime Minister of Iceland.
Ms. Sigurðardóttir managed the government of Iceland from 2009 to 2013, when the bank system failed and Iceland was hit by a financial crisis. In the light of these complicated events, being the first openly homosexual country leader, she decided not to discuss her private life in the media. After Ms. Sigurðardóttir's political career ended, the couple still avoided publicity and only took part in several LGBT* community events. Nevertheless, Jónína Leósdóttir has felt the need to open up about this relationship, which by that time lasted for 30 years, so in 2013 she released an autobiography called "Jóhanna and me".
Jóhanna Sigurðardóttir and Jónína Leósdóttir also kindly accepted an invitation to share their experiences with the LGBT* community in Lithuania: the couple from Iceland will join the event "Pride Voices", which is part of the LGBT* community festival "Baltic Pride" 2016, taking place in the Lithuanian Russian Drama Theatre on 16th June, 2016.
"I know that LGBT* human rights do not get enough attention in Lithuania, in contrast to Iceland. This is why I hope that our story will encourage LGBT* people in Lithuania to seek equality without any compromises," says the former Prime Minister of Iceland Jóhanna Sigurðardóttir.
"Jóhanna and Me"
"In Iceland, my book received a lot of attention, because until then we did not talk much about our personal lives. We did not give interviews nor pose for the pictures. We focused on our careers and our family and did not emphasize that we are a same-sex couple. An autobiography was Jóhanna's idea, but it didn't take long for her to convince me to write it," J. Leósdóttir says with a smile.
"It's a story of our relationship. A relationship that started 30 years ago and for a long time was very complicated. It's a story of two people who have gone through a lot of painful experiences, and it's a story with a happy ending. We felt that we have the responsibility to share our struggles with the LGBT* community in Iceland and all over the world. We hope that this book will inspire people who face similar challenges," says Jónína.
Jónína Leósdóttir debuted as a writer in 1988 and released 12 books since. A trilogy about a teenager girl from a tiny town in Iceland had the biggest impact on her career as a writer. After visiting schools in Iceland, Ms. Leósdóttir did not find it surprising that pupils of all genders find her books interesting. However, the writer would not deny that the readers are most interested in her personal life.
"It was very weird to write an autobiography. I had to recollect some really painful memories. Yet our relationship wouldn't have lasted this long if it weren't for these complicated feelings and wonderful moments. Many readers are astonished at the fact that we are together for 30 years already. Before the book was released, only our family members and closest friends knew the challenges we had to go through in the beginning of our relationship," reveals Jónína.
The Society Showed no Special Attention
"Our story began in 1985. It was an absolutely different timing. There were no laws for LGBT* equality or legal recognition of same-sex partnerships or marriages. Compared to the current times it was like the dark ages. We were not able to live together and felt a little isolated, we couldn't find a place for ourselves to just be," remembers Ms. Leósdóttir.
"We wanted to live together, but we were too attached to our personal habits. It was difficult. I used to make scenes, smash doors and then I would declare that I could not wait any longer. Then I would contain myself and try to think rationally: I tried to fool myself that after the elections everything will be normal… But elections took place in every four years."
In 2000 Ms. Sigurðardóttir and Ms. Leósdóttir moved in together and were surprised to receive… no reaction at all. The media respected the couple's decision not to talk about their personal life, and after nine years Ms. Sigurðardóttir was elected as the Prime Minister of Iceland. Voters later showed her gratitude for the efforts to get Iceland out of financial crisis.
Ms. Leósdóttir is convinced that the general society did not react because she and her wife are both white and were not that young. "I think that the neutral view from the society came as a result of me being of mature age and already having grand-children. I suspect people don't find grandmothers dangerous," contemplates Jónína.
And so the couple did not receive lots of negative comments. Even during an official visit to China, where homosexuality is still a strict taboo, the partner of Prime Minister was not ignored. "We were treated with courtesy. Some thought that Chinese people will try to ignore me or cut me out of television, but I even gave an interview. Nevertheless, it was obvious that they were not used to welcoming same-sex couples," says Ms. Leósdóttir.
Unfortunately, spouses have also experienced one unpleasant incident. During a visit in Faroe Islands a parliament member of the autonomous region of Denmark refused to be seated at the common official dinner table. "He resented the fact that Jóhanna was there with me," explained  Jónína.
However, not all problems arose from increased public attention. The couple met each other in 1983 and both partners were already married and had children. "Everything evolved secretly. It was extremely difficult since we were worried for our children and how they will be affected by the divorce," reveals Jónína.
Their former husbands obviously were not satisfied, however, managed to start new families. Jónína's three boys accepted the change, married and now pursue careers in aluminium and oil industry and media.
Sexual Orientation is Not a Choice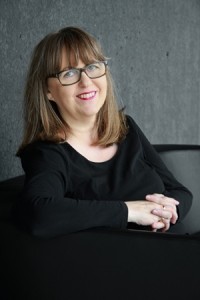 Ms. Leósdóttir claims that the idea to release a biography came about not only due to the fact that her partner stepped down from the politics. The author hopes that her book will encourage LGBT* people to accept their sexual orientation.
"I communicate a message which is complex. Sexual orientation is not a choice. People do not choose to be homosexual. Even if they would make this choice, they would probably say Thank you, but no. Life would be way simpler if we were heterosexual. Nevertheless, we are happy that we have overcome all the challenges," says the author.
Jóhanna ir Jónína met when they were working at the same committee. Although, the role of a politician was unusual for Jónína since she was a journalist and a writer. Suddenly, for the first time in her life she felt attracted to a person of the same sex. Then she realised that she feels more than friendly affection for Jóhanna.
"I did not expect that this could happen to me. Everything was different because I was mature and knew who I was. I was not a confused and unconfident teenager," says Jónína. She described her love as a weird feeling and hesitated to call herself a lesbian.
"Sexual orientation was not a special discovery to me. Love for another person was the most important thing to me since in thirties a person is fully mature," says Ms. Leósdóttir. She reveals that she feared lesbians when she was younger since she had never met one before.
Fear of Lesbians
When she was studying at the University of Essex (UK) she went into a bar, which shared a bathroom with the clients from a gay nightclub. "I did not go to the bathroom because I feared that I might meet a lesbian there. For me it seemed as if I would go to men's bathroom. This just shows how young and uneducated I was", admits Jónína.
For the young writer lesbians seemed to belong to an opposite biological species. When she finally accepted her feelings to Ms. Sigurðardóttir she told her: "I will puke if you'll hug me or will try to kiss me".
Ms. Sigurðardóttir did not answer. After several months Ms. Leósdóttir confessed her feelings and divorced her husband in 1986. She does not talk about their first kiss, however, she admits that they needed some time.
Physical aspect of the relationship happened naturally. "Women fall in love with a person. My friends like men of a particular appearance, for instance the ones who are tall or short or skinny. In the relationship of women this is a bit different. Maybe it is just my belief", she wonders.
The main aim of Jónína's book "Jóhanna and me" and participation in the "Baltic Pride" 2016 is to change ungrounded beliefs. The author is convinced that the changes can happen only if they are encouraged by personal stories and examples. The more world leaders publicly present their same-sex partners, the sooner same-sex families will be accepted by the society.
The article is published as a part of a project "The strengthening of the cooperation, as well as dissemination of good practice between LGL and Icelandic human rights activists during the Baltic Pride 2016 human rights program" which is supported by the NGO Programme Lithuania funded by EEA Grants.