Lithuanian Gay League (LGL) recently organized a volunteer training that was attended by 32 members of the local community, 11 of those coming from towns outside of Vilnius. The training was a two-day event held at Algirdas Hotel in downtown Vilnius.
The first day of the training began with team building activities that encouraged participants get to know one another better. These activities helped everyone feel more comfortable and created an open and safe space for respectful conversations. The rest of the weekend focused on identity and values as they relate to activism.
Ashley Fowler, a Director within the Center for Leadership at Elon University in the US, gave a presentation on the development of LGBT* rights in both Lithuania and Croatia, explaining how the two countries compare politically and socially on these issues. This presentation educated participants on the current situation for LGBT* people in Lithuania and also allowed them to ask any questions that they may have about the situation. Ashley also helped facilitate several other activities throughout the training, explaining in more detail how leadership and personal identities and values relate to activism.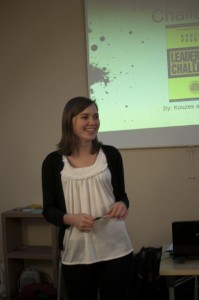 Ashley commented on the experience saying, "I am honored to have been a part of the volunteer training hosted by LGL. It was refreshing to meet so many people who were so eager to learn more about the LGBT* situation in Lithuania and how they can become more involved personally. I am excited to see how each person is able to use their own individual strengths to further the LGBT* rights movement in the future. The training left me feeling inspired and very hopeful for the future of not only LGL, but also Lithuania."
Participants were encouraged to think about their own personal identities and values throughout the training. For many participants, this was the first time that they were in a safe space where they could discuss LGBT* issues with others.
Several of the participants were coming from outside of Vilnius so this was their first exposure to LGL as an organization as well as to the larger LGBT* movement. As participant Elena Dapkūnaitė explains, "Activities for the LGBT* community mostly happen in Vilnius, so this training was important for those coming from outside towns. They were able to network with LGL staff members and other volunteers. They come from a more hostile and homophobic environment than we have here.
Everyone was very eager to learn and wanted to discover new ways that they could become involved in the movement. Participants gained new perspectives and knowledge about many issues that they had never really considered prior to the training. The diverse group was able to have difficult conversations that challenged everyone to think more critically. For participant Marius Gorochovskis, the diversity of the group was not only helpful in growing as a person and activist, but also in networking with other people. He explained, "When people from different social circles meet, a wonderful thing happens. They get the chance to learn about others, about themselves; they increase this network of LGBT friendly people. That was a crucial component of the training: even though not everybody is able to volunteer, they all will still support and spread the news and the tolerance in their inner circles." Many friendships were developed over the course of the training, as people came together to encourage and support one another.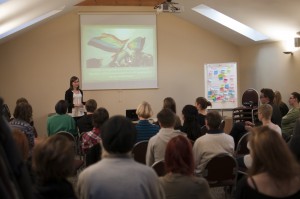 Once participants better understood their own personal values, they were able to think more about what role they should take on as volunteers. Most people left the training with a better understanding of their own motivations for volunteering and how they could use their own skills and strengths to help advance the local LGBT* rights movement.
Events such as this training are crucial for the local LGBT* community and, ultimately, for the further development of LGBT* rights here in Lithuania. LGBT* people and their friends need to gain awareness about what is happening politically and socially in Lithuania. They need to know that they can be empowered and that they are capable of contributing to change in this nation.
Since joining LGL, Aliona Polujanova, the Volunteer Coordinator, has made it a priority to educate and train members of the local community on LGBT* issues so that they can become more active and visible here in Lithuania. She works closely with volunteers to help them recognize their own potential and to help them stay involved with the organization.
She explains more about her position and views on the training: "This was our second training aimed at LGBT* people and their friends who would like to learn more about LGL or take part in our work and activities. I am very happy to see how the number of people willing to contribute their time and energy for the greater cause is increasing with every month. I appreciate my growing team and know every single one of them personally. It is a great privilege to be a coordinator for all of them. After the training, I am particularly looking forward to this new project we are going to develop with one of the participants—workshops for friends and family members of LGBT* people who still struggle with acceptance of their close ones. I think we need to work more on encouraging people and showing them how they can become a part of the LGBT* rights movement."
LGL values all types of volunteers and recognizes that they are more successful as an organization when they have support and participation from the local community. This training was organized as a part of the sub-project "Strengthening the institutional capacity of LGL" which was  financed by the NGO Fund of the Lithuanian – Swiss Cooperation Programme.