On 29 March 2023 the National LGBT rights organization LGL organized the first-ever in-person conference in Lithuania specially designated to the topic of LGBTI inclusion in the workplace, "Direction: Employment. Strengthening LGBTQ Workplace Inclusion".
The event explored topics of diversity, equity, and inclusion (DEI), its recent trends, challenges, and good practices, as well as the importance of openness in the workplace.
The potential of LGBTI employees is still not fully used in Lithuania
The Minister of Economy and Innovation, Aušrinė Armonaitė, who gave a welcome speech at the conference, emphasized the growth of the Lithuanian economy.
"The Lithuanian economy is doing well. The value of our start-up, tech business ecosystem has grown seventeen-fold in the last few years. After Croatia, we are second in Central-Eastern Europe in terms of ecosystem growth. The biotech sector grew by 87 % during the pandemic, and by 22 % in 2022. This is impressive growth. We are becoming a high value-added economy. Of course, we are also proud of our industry, production, which is, was and will remain the engine of our economy," said the Minister.
"While we have a lot to be proud of, there are things we can't be happy about. We still don't sufficiently include the LGBTI community in our economic growth, we don't provide the necessary legal framework to keep people safe and feel good about being themselves. For example, in the 2022 Rainbow Europe Map and Index, Lithuania ranked only 35th out of 49 European countries. As a representative of the coalition government, the Minister of Economy and Innovation and a citizen of Lithuania, it is very sad to see such statistics, because it seems to me that our people do not deserve it", she assured.
The Minister emphasized the damage to the economy caused by the exclusion of LGBTI employees.
"It is also not good that one out of four LGBTI persons felt discriminated against because of their sexual orientation or gender identity when looking for a job. Various studies show that in Central-Eastern Europe, where LGBTI issues are not addressed, the economy loses up to one percent of GDP. If it is still not clear to someone that people must be dignified before the law, perhaps they can at least hear economic arguments, although, of course, first, we need to talk about human values," emphasized Aušrinė Armonaitė.
"Despite the fact that we still lack the votes in the Parliament to pass laws ensuring LGBTI equality, Lithuania is moving forward. Lithuania has already changed. There are many wonderful private initiatives that initiate positive changes in society. The achievements of the Lithuanian economy are recognized worldwide. It won't be long before that change comes to the Lithuanian Parliament. We lack very little and together we will change it and we will be able to enjoy a better image of the country in the international space," hoped the minister.
The Ambassador of the United States of America, Robert S. Gilchrist, emphasized that the inclusion of LGBTI workers would help Lithuania attract new investments and not lose talent.
"The issue addressed by this conference is personally very important to me and I would like to say that LGBTI rights, tolerance and an inclusive environment where every employee is valued are particularly important. Employees who know they are valued by their company will achieve better results and create greater value. Employers must send the message that harassment and discrimination are not part of the company's culture. Many young Lithuanians leave Lithuania because they see the country as very conservative and restrictive. I'm not only talking about LGBTI employees, but in general about young people who want their country to be characterized by diversity and to send a message to the world that Lithuania is an innovative country of young people, where companies want to invest," said Robert S. Gilchrist.
The Ambassador of the United States of America hopes that the partnership law will be adopted in Lithuania and is sure that the establishment of equality of LGBTI employees would contribute to the creation of a better investment environment.
"In the US, many companies, especially in Silicon Valley, have become leaders in ensuring the rights of LGBTI people. It's great that there are many brave companies in Lithuania, including Bitė, which have started to speak about LGBTI rights, but the voices of LGBTI people are still not heard clear enough. As Lithuania builds its brand as a country of innovation, it is very important for companies to transform," the ambassador emphasized.
"Lithuania still needs to do a lot. A recent survey showed that Lithuania is among the 20 happiest countries. It should also rise not only to the 20th place in the Rainbow Europe Map and Index, but also to the top of the list. This would increase the investments of innovative companies in Lithuania. Many companies have chosen not to invest in Lithuania because they do not value Lithuania as an inclusive environment. Companies would like to bring diverse employees to Lithuania and want them to feel like they are working in an inclusive country. This is a challenge for Lithuania, and I really hope that Lithuania will move forward by adopting the law on partnership. This would also help companies in changing the working environment, which would become more inclusive of LGBTI employees," Robert S. Gilchrist is convinced.
Richard Martin-Nielsen, Chargé d'affaires at the Embassy of Canada to Lithuania emphasized that the rights of the LGBTI community are a significant part of Canada's foreign policy.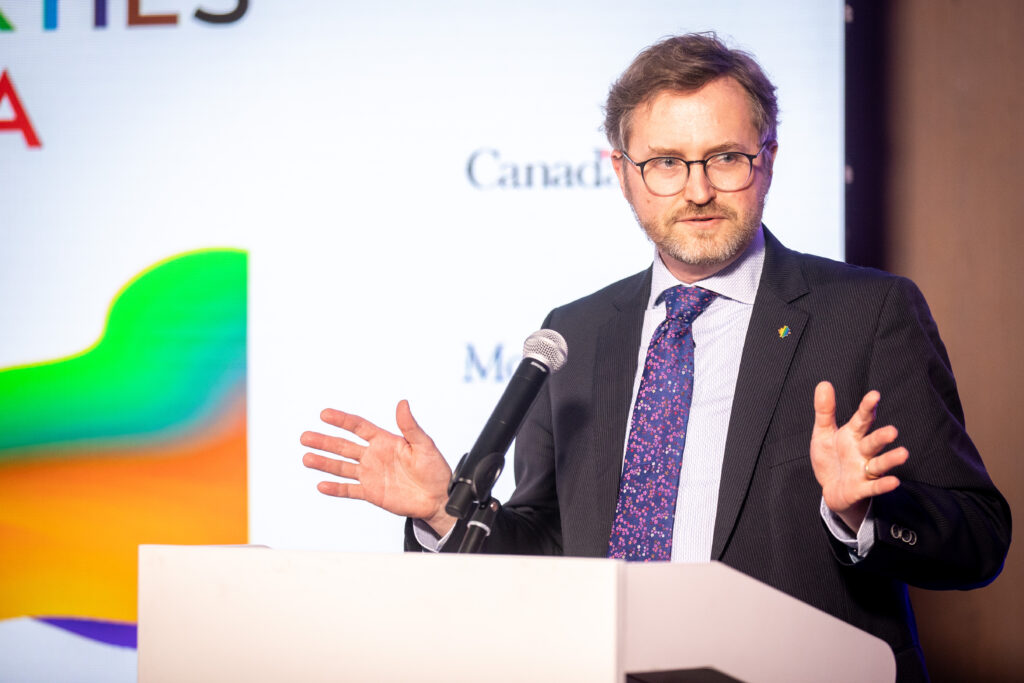 "Canada is committed to respecting human rights, diversity and equality. These values underpin everything we do both in Canada and internationally. In Canada, the principle of non-discrimination on various grounds is ensured, and same-sex marriage is legalized. We want all people to feel equal and be able to be themselves. Canada advocates for LGBTI rights around the world. This is an important element of our foreign policy, and we strive to make these principles universal and indivisible. These values are also important when it comes to business. An inclusive business attracts more talent, can retain them, and preserve investments. Lithuanian companies should make better use of diversity," said Richard Martin-Nielsen.
Vladimir Simonko, Executive Director of the National LGBT rights organization LGL, emphasized that the situation of LGBTI employees in Lithuania is improving, but the changes are slow.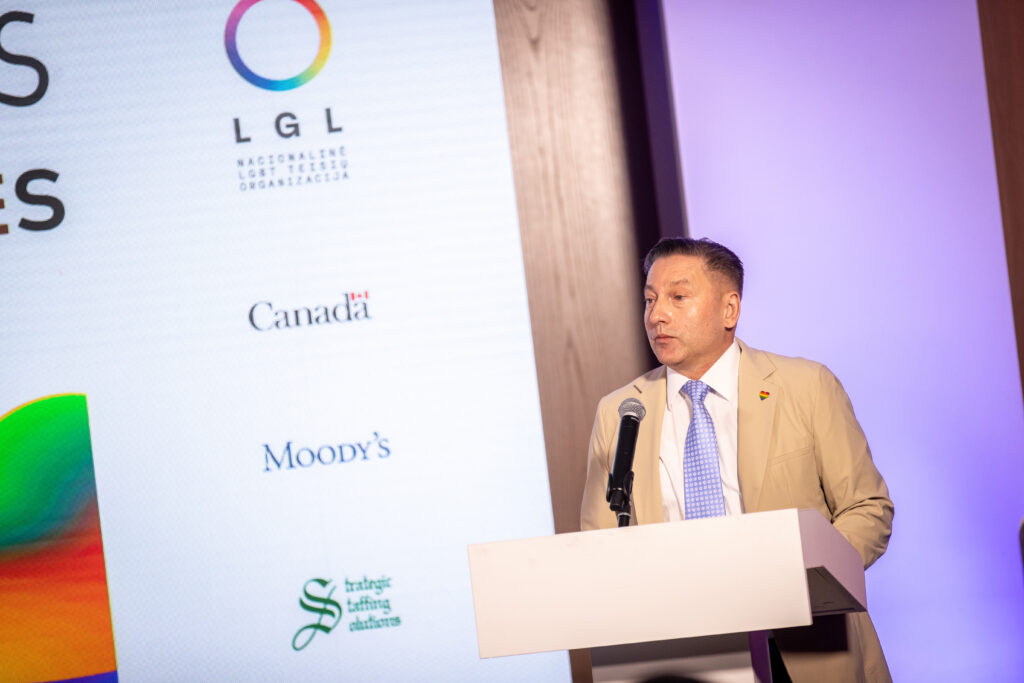 "To live, to work and to love without giving up one's identity is one of the basic human rights. However, LGBTI people are still often forced to be invisible in the workplace and feel like they don't fit in. In 2004, when we started talking about a more inclusive workplace, many LGBTI people felt they had to hide their identity. In some cases, from family, friends, but especially at their workplaces. Today, together with our colleagues, we can already celebrate Pride events at workplaces. Five years ago, this seemed impossible in Lithuania," said the Executive Director of LGL.
Inclusive businesses achieve better results
Eglė Staniulionė, Head of the Bitė Lietuva People's Embassy, was happy with the company's leadership in ensuring the rights of LGBTI employees.
"I am proud to work for a company where all families are valued. Bitė has taken an important step in ensuring the equality of our LGBTI employees. We encourage other Lithuanian companies to follow our example. It is easy to do, and the benefits are felt by the entire Lithuanian society. Our initiative came from our employees," she said.
"Bitė tells our society that all families are important. They must be treated equally regardless of sexual orientation or marital status. Why should we let someone else decide which families are important and which aren't? In our company, we ask employees to declare their relationships, regardless of whether the state recognizes them or not. Then the employees can use all the benefits that our company provides to families", Eglė Staniulionė assured.
Andreas Nielsen, Senior Adviser on Gender Equality and LGBTI Inclusion at the Nordic Council of Ministers, shared the experience of Nordic countries.
"We have seen similar initiatives in the Nordic countries as well. Companies feel that they can no longer wait for the state to initiate the necessary changes and are starting to implement measures that consolidate employee equality. From the perspective of the Nordic countries, it is essential that governments and businesses encourage each other and monitor how measures to promote equality among workers are implemented. However, even in the Nordic countries, representatives of the LGBTI community still face disrespectful behaviour in the workplace, which is why they are forced to change jobs more often and earn less. The trans community is even at risk of poverty due to these factors. In the Nordic countries, there has also been a long debate about what will happen if equality for all families is ensured. However, in ensuring the rights of same-sex partners, only positive changes have been achieved," revealed Andreas Nielsen.
Mikus Ozols, Project Control Services Analyst at Accenture Baltics, presented the initiatives implemented by his company in Latvia.
"Families of LGBTI employees were also recognized in our company. The initiative came from one of our Canadian employees, who suggested implementing this idea in Latvia. During the Baltic Pride events in Riga, a special group was formed in our company that worked on LGBTI topics. Accenture is proud to be the first company to participate in the Baltic Pride march. We hoped to encourage other companies not to be left behind. After establishing the equality of LGBTI employees, the employees became freer, they began to feel like a full-fledged part of the company", stressed Mikus Ozols.
The personal journey of an LGBTI employee
Luca Constantin, Analyst in the Digital Review Team at Western Union, shared his personal experience as a gay employee. After experiencing challenges, Luca found a workplace where he can feel himself.
"I grew up in a very small Italian village near the Alps. In the beginning of my life, I followed an established path. Later, at some point, I realized that my path was different from others. It was difficult to choose which way to go next. Some directions you choose yourself, for example, I started to study law. I realized I was gay, and I faced challenges. Self-acceptance was also a path along the way. It gave me the courage to make decisions and see things differently. I started looking for new solutions," said Luca Costantin.
"Coming to Lithuania was also my choice while following this path. I met great colleagues here and began to take more care of my emotional well-being. The beginning of my career was not inspiring. I worked as a waiter and this experience made me think about in what kind of workplace I would like to work in. Then I realized what it means to work in a non-inclusive workplace. A burden fell on my shoulders, and I had to solve all problems myself. When I started working at Western Union, I felt like I was a part of the company. I felt that I was accompanied every step of the way, I knew who I could rely on if challenges arose. I knew that there was an inclusion committee in our company and that I no longer needed to worry about my identity," shared his experience Western Union employee.
This article was a part of the project "Direction Employment", which created an opportunity for NEET youth of vulnerable/ underrepresented backgrounds to explore their potential in IT. The project is funded by Iceland, Liechtenstein and Norway through the EEA and Norway Grants Fund for Youth Employment. Norway, Island and Liechtenstein, with the purpose to reduce social and economic disparities in the European Economic Area, created EEA and Norway financial mechanisms. The project is implemented by Bulgarian Workshop for Civic Initiatives Foundation (Bulgaria), National LGBT rights organization LGL (Lithuania), DMC Metrix (Ireland), Lai-momo Cooperative Society (Italy), P.PORTO (Portugal), Ljudska univerza Velenje (Slovenia).