Riga Pride returns to Latvia this week with the most anticipated March for Freedom on Saturday, 18th of June. Showing support and solidarity to the LGBTQ community in Ukraine, Riga Pride will take place this year together and as part of Kyiv Pride with the message "Until we are all free". With 40 events throughout the week, Riga Pride has something to offer to everybody.
Kaspars Zalitis, one of the main organizers of the Riga Pride, explains why Riga Pride is coming back to stay, why it is important to support LGBTI community in Ukraine and details what we can expect from many different events throughout the week.
After a 14-year hiatus, Riga Pride returns this week. Are you planning to organize Pride in Riga every year? What is the reason behind this?
The Riga Pride as a concept is returning to Latvia after 14 years. Last Riga Pride was organized in 2008. The Baltic Pride will still take place in Riga in its due time, but there is a need to organize Pride in Riga every year. There is an actual large demand for the Pride every single year. We are listening to the Latvian LGBTI community and society, and we respond that way.
Latvian delegation participated in the Baltic Pride 2022 in Vilnius. What are your personal impressions about this year's festival?
It was good as usual. We really enjoyed the parade. For many people that came over to Vilnius it was their first pride. Taken to account that I've been to every single Baltic Pride in Vilnius, I always get impressed by the people who come to participate, and people who come to watch. It was nice, it was very friendly and cheerful.
Riga Pride will take place this year together and as part of Kyiv Pride with the message "Until we are all free". How did you establish partnership with Kyiv Pride? What is your reaction to recent events in Ukraine? How can LGBTI communities in the Baltic States help the LGBTI community in Ukraine?
Solidarity with Kyiv Pride came quite naturally. Both, the LGBTI community and the society have a huge empathy towards Ukrainians and Ukraine. Probably more than any other Western European country because we connect due to our common past. So, it is quite natural that we connect not just generally with the Ukrainian society, but also the Ukrainian LGBTI community.
Mozaika and Kyiv Pride have been together since the very first Pride in Kyiv. We've been attending Kyiv Pride; we've been helping to organize it. So, it's natural that we are working with them and at the same time we've been organizing support and donations for Ukrainian LGBTI community.
Regarding support for the LGBTI community in Ukraine, the most important thing is to ask them what they need, because sometimes we tend to perceive what Ukrainians need. So, we're always asking them what we could do to support.
Another important thing is not to forget about the war in Ukraine, because we are getting used to the war. We're not anymore so shocked about what is happening. It's became a daily thing, so we should keep up with our message. We should keep on participating in the protests. When Latvia and Ukraine were part of the Soviet Union, people were constantly protesting for our independence. We should keep on doing the same for Ukraine.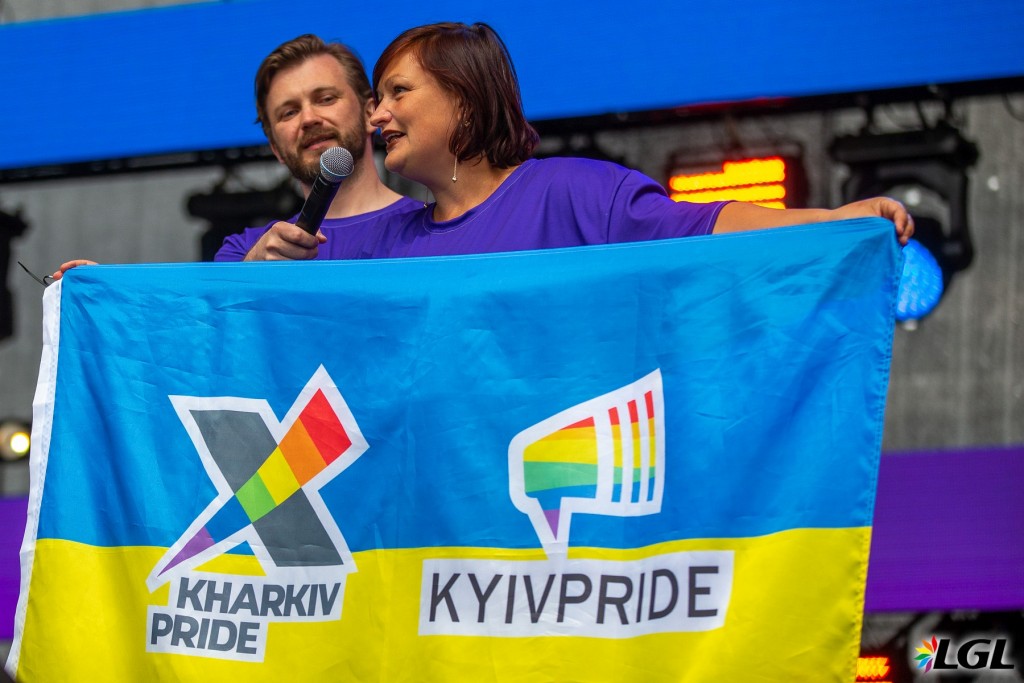 What are the main messages you would like to get across with the March for Freedom?
Our main message is that we are marching in solidarity with Kyiv Pride. We want people to know that there is queer community as well in Kyiv. And they are fighting for freedom, both in militant ways and in civil ways, protecting and assisting people.
We are willing to give a platform for Ukraine to tell their story, because we often hear it on TV, but we don't hear it personally. We will have the Director of Kyiv Pride coming over, and some other people representing Kyiv Pride coming to Riga Pride. It's going to be a direct message.
We will also address the issue of civil partnerships. The Bill of Civil Partnerships is still on the table of the Latvian Parliament. So, that is another thing we will be focusing on as well.
What can we expect at the Riga Pride? What events are not to be missed?
We have over 40 different events. Of course, the parade on the 18th of June is the most important event. In case Lithuanians are willing to come over – Saturday is the day. The party afterwards is as well one of the most important events.
For those who will stay in Riga a little longer, on Thursday we will have Freedom Talks, where we will talk about freedom from within. We will have a speaker who will talk about freedom from "Soviet mind". It's a little bit deeper, because it's been a long time since we are not part of the Soviet Union, but Soviet Union is still in our heads and our minds. We will also talk about freedom of beliefs, the situation in Ukraine.
We will also have a business conference on Friday, which will focus on business. We will look at different perspectives: workspace and true cost of intolerance in Latvia. On Friday we will launch the data of the true cost of homophobia and how much it costs to the Latvian economy. Recently we did a study together with the KPMG Latvia. So, these are a couple of events not to be missed during the Riga Pride. It's going to be fun.
As a long-term LGBTI rights activist, how do you evaluate the current LGBTI rights developments in Latvia? In your opinion, is same-sex partnership likely to pass in your Parliament?
It should pass. I don't see any other scenario. I cannot lobby for it and think that it's not going to pass. It's a question of when. So, it's not going to pass until the Pride, but it might happen in early Autumn.
Sometimes we think we need changes coming faster, and we need the rights now, but I was in every single Pride since 2005, so I see a difference. We have a record number of groups registered for the parade; we have a huge interest in our events. All our events are fully booked.
We have politicians coming in and there is literally no need of being convinced. For example, on Wednesday we have a political debate about LGBTI issues with the political parties and we didn't even have a problem to get someone. And we get the top-ranking Latvian politicians willing to speak about LGBTI rights.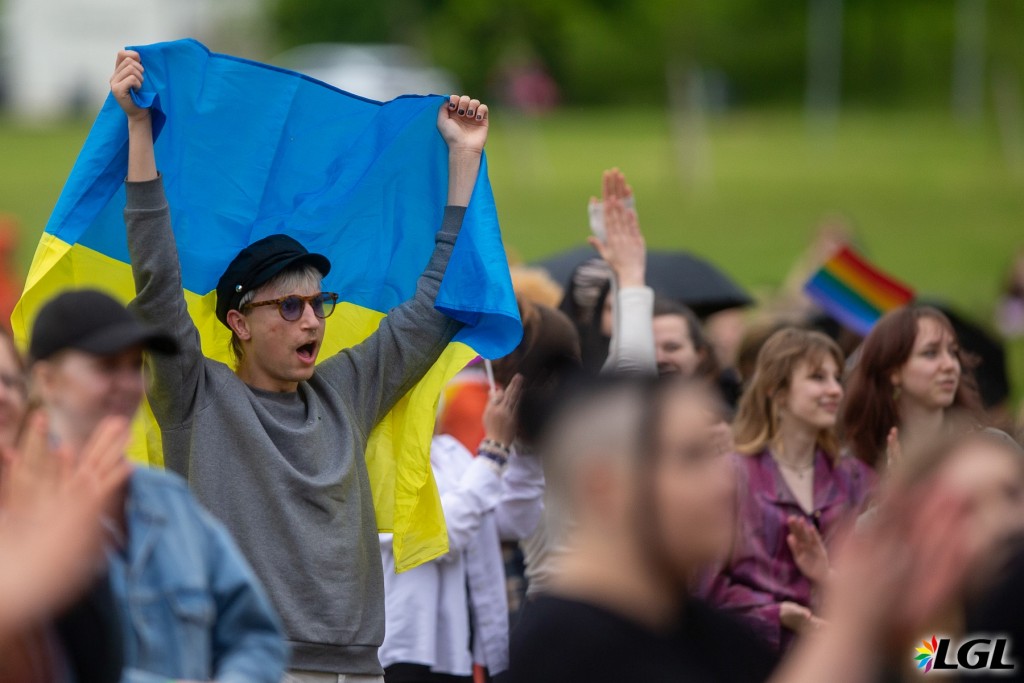 What message would you like to send to the LGBTI community in Lithuania and Lithuanian society?
Keep on fighting. Things are changing. Pressure the Government. And most importantly: keep the message about Ukraine alive. Of course, we have our own struggles, and we will fight for them, but this time as well within our community we need to show the solidarity with Ukraine. Because that's one place and people who need more.
We have achieved a lot. Our slogan is "Until we are all free", so we would like to invite you to celebrate your freedom. We started the Pride yesterday by saying that sometimes we don't even realize how much freedom we have. And we are quite free in comparison to our neighboring countries, so I think that's something we should be celebrating.
The article was prepared under the framework of the project Baltic Pride 2022 Communication Campaign, funded by the Government of the Federal Republic of Germany.