When the war started in Ukraine Olena Globa spent six days in the basement in Kyiv trying to survive during the Russian shelling. In a time of need she received help from the US LGBTQ+ organization PFLAG. Olena was able to flee to the United States where her son lives and is now using every opportunity to speak out about the atrocities of war. Olena left her whole life in Ukraine: her relatives and beloved organization TERGO, that empowered parents of LGBTI persons to fight discrimination against their children. Now everything is put on hold until the Ukrainian people will defend their democracy and win the war that was unjustifiably imposed on them.
Olena, I know that you are safe with your son in New York now. Could you talk more about the events over the past month? How did war affect you personally?
Today is a very sad anniversary. Now we are talking it is already one month since the war against Ukraine started. It started on the 24th of February and this ruthless and treacherous invasion began. Six days in the basement were the most horrible in my life. They broke me up. On the first day I couldn't realize what the war is.
I was born during peace time in 1964. I knew war by books and films, but not in real life. In real life the war is the most horrible thing. It's grief, mischief, and bleeding wound in your heart and in your soul when it happens to you personally and to your country. And I'm very much obliged to my son, to my son in law, who saved me. They took me out of this hell. I am wholeheartedly thankful to US LGBTQ+ organization PFLAG who paid for my short stay in Europe and arranged my flight to New York. Right now, I'm staying with the family of PFLAG members. They're very good friends. Our cooperation started in 2014 and since that time they shared their experience and knowledge and right now they share their home with me. And I am so thankful for that.
The influence of this war is drastic. I couldn't stop this grief inside of me. For the first time in my life, I'm not happy while travelling. Before travelling was my hobby, my enjoyment, my entertainment. Right now, it is none of these. It was just a necessity to save my life. I decided to tell the truth about the war, and I try to use any arising opportunity to talk about it.
What did you leave behind in Ukraine?
In Ukraine my whole life was left. It seems like right now I'm physically in safety in my beloved city of New York in my beloved country America, but my heart and mind are there in Ukraine with the Ukrainians. I can't tear out myself from my country. My relatives, my aunt, niece, and her family, two grandnephews, my friends, TERGO parents are still in Ukraine. In TERGO we share common goals and concerns, and we feel that this organization is like a family. Lots of them are staying there in Ukraine and it is sad because I follow the news and so far, the news is very sad. But I do believe that Ukraine will win.
In New York you are actively engaged in raising awareness about the ongoing war against Ukraine. How is the local LGBTI community in Ukraine coping with these horrible events? We heard stories about the active resistance of LGBTI community members. Do you think Ukrainians are more united as a society now when facing a common enemy?
The Ukrainians in America are very active in organizing help and support as well. Like people in the whole world the people here are not indifferent. They are supportive and they are trying to find any possible ways to organize help, send goods and medication, money for weapons, to do as much as they can.
LGBTI community in Ukraine is very diverse. Different LGBTI people in Ukraine act differently. I know lots of LGBTI people who are right now fighting in the army, the National Guard or territorial defense groups. Others are volunteering in shelters, both in the Western Ukraine that is quiet and safe place so far, or in other European countries where they are organizing shelters and homes to take in the refugees from Ukraine. So, the people are working very hard.
Right now, both the Ukrainian society as a whole and the LGBTI community are tightly united. In the face of this threat from Russia, this war, death, and killings we are united around our President, and we have forgotten all our previous critical remarks about his policies. He is very good at boosting our morale and making us very active and efficient during the time of war. The Ukrainian society got together to overcome our enemies, the Russian troops, and army.
We are very strong, and people believe in our victory whether it will be achieved sooner or later. Of course, the price of this victory may be very high, but as far as I see it, the people are ready to pay this price for freedom, independence, and our democracy. Our democracy might be young, and we made some mistakes in the past, but we have democracy, and we are not slaves like the Russian people. And this is the main difference between Ukrainian and Russian nations.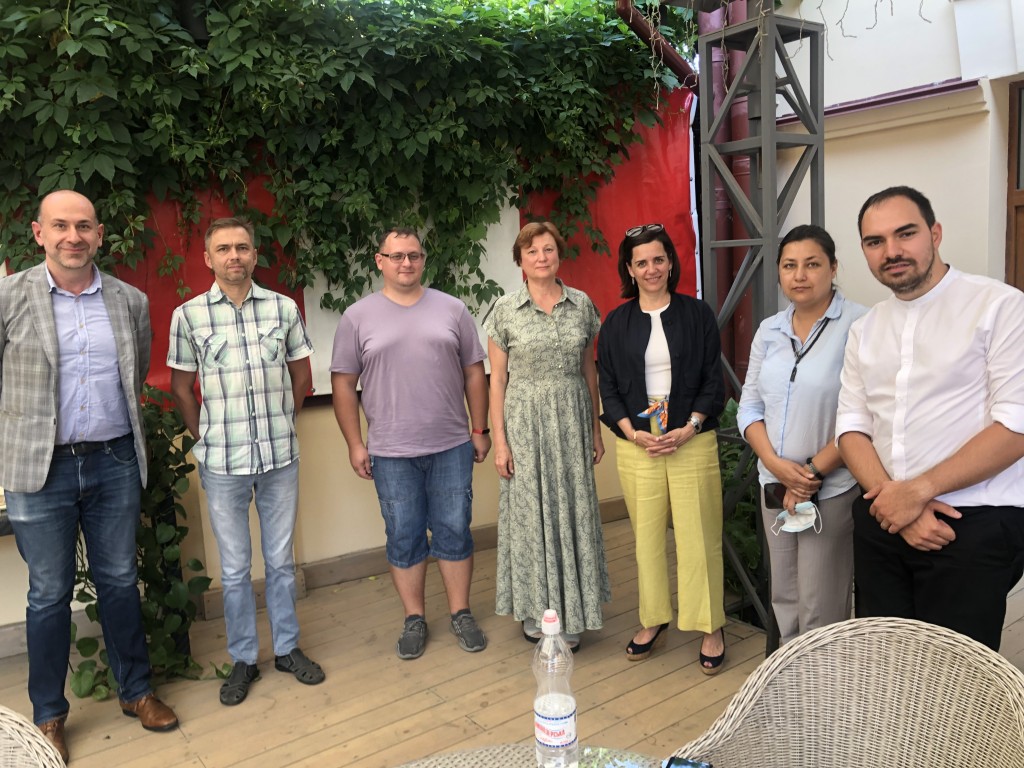 Lithuanian Government and civil society are mobilized in support for Ukraine. Lithuanians are providing a safe shelter for Ukrainians in their own homes, fundraising, sending convoys with humanitarian aid and things needed by the military in Ukraine. However, most of us are carrying a heavy burden in our hearts because we feel that we didn't do enough. What more can we do to support Ukraine and the local LGBTI community specifically?
While staying in the basement and receiving all the messages from all over the world I was feeling that the world got united in support and help for our country. That is very essential and helpful. It makes us strong and capable to fight back. We are very much obliged for every kind of help and support. We feel that Lithuanian people are with us. They are also with us in our front lines. They help us, they back us up and they support us. And we are eternally grateful for this. So far, this help was efficient and timely.
In my opinion, the most crucial thing about help and support is to keep doing it. Please don't stop doing that until our common enemy is beat and the Russian troops return to Russia. You can't feel safe being so close to Russia. The world needs to "build a wall" between the democratic world, of which Ukraine is part of, and Russian dictatorship. Let's leave them behind this wall. We are not interested, and we never interfered. They may live as they like, but they shouldn't intrude, they shouldn't invade our territories and our lives.
Sometimes it is very difficult and tiresome to stay alert and to keep doing what the people are doing right now. I absolutely understand that we all got accustomed to our personal lives and our routine, but right now these lives and those routines are broken. Unfortunately, we need to concentrate on something else. We need to change our lives and our attitudes. But it's not our whim, it's our need. And we don't want, we must.
I think Lithuanians will never forget and never stop supporting Ukraine, because we can totally relate to what you are going through. But since we are privileged to be NATO members and your President is asking to close Ukraine's sky and we cannot provide that for you, this is very bitter pill to swallow for us.
I can absolutely understand that. Maybe civic protests could communicate this message to your government and your government may push the NATO administration to do it. We should at least try. We should use any method that is available to us. I should admit that not many tools and methods are available to ordinary citizens. But I believe that in case the protests will become very large and massive, they will listen to us, and they will do as we ask them to do. We should be very decisive and persistent in doing that.
You mentioned that Ukrainian society became united in the face of war. Recently some MPs representing the opposition at the Lithuanian Parliament came up with a suggestion not to discuss the draft Law on gender-neutral partnership citing ongoing war in Ukraine and the need "to stay united" and "not to discuss issues" that are "dividing". What is your reaction to this? Will continued oppression of LGBTI human rights in Lithuania serve Ukraine in any way? Or should both Ukraine and Lithuania strive to uphold democratic values and equality for all citizens?
Thank you for this question. This question is essential. My reaction to putting off the solution of this significant issue for LGBTI people has always been and will be negative. I don't see any reason why the gender-neutral partnership Law can't be voted for. The parliament can efficiently deal with lots of vital assignments and take care of the lives of all citizens of the country. In America there is a good saying: "Can a person walk and chew gum at the same time?" Of course, the person can. The same goes for the parliament. We elect these MPs to satisfy our needs.
The Law on gender-neutral partnership is not our whim, it is our necessity. The MPs gave a promise to serve their people. And they should serve. LGBTI community is a part of any society in any country. And this community should have their rights protected. These rights are not extraordinary. They are basic rights, and they should be protected and enshrined in the law. No excuses can be used. The MPs should prove their professionalism by adopting the laws that are necessary for their citizens.
LGBTI people in Ukraine proved that they are great citizens and in case they feel capable to fight they go and fight together with their heterosexual counterparts. And I'm sure that in case Russia intruded Lithuania, Lithuanian LGBTI community would do the same. So, it's high time for the Parliament to adopt the gender-neutral partnership Law. The Parliament should make the Lithuanian LGBTI community happy and there are no valid excuses not to do so. I would like to wish the Lithuanian LGBTI community good luck with this law. I do hope that the MPs will think, change their mind, and do what they must do.
Three years ago, we met during the round table to address homophobic bullying in the education sector. I remember how we shared a common concern about the situation in Lithuania and Ukraine when it comes to discussing LGBTI issues in the school environment. Could you please share more about what your organization TERGO achieved while working in this area?
In fact, this is the positive moment of our interview, because I evaluate our activities and our achievements as successful. In 2016 we started our anti-bullying advocacy trainings. Up to 2021 we could witness changes happening step by step. At the very beginning the teachers had very homophobic attitudes. It was very difficult to conduct these trainings. Our psychologists were very exhausted and sad after those trainings. It was really hard work.
Starting with 2019 I noticed a shift in the attitudes. Most teachers in our groups were willing to understand that tolerance is essential, and they started to be attentive, supportive, and empathetic towards their LGBTI students. They sincerely asked us how to communicate with their students in order not to offend them. Less and less people gave us hostile and negative feedback after our trainings. Even in December 2021 the Ministry of Education certified our tolerance training program with a certificate. And so, we were very happy to continue with our tolerance training, but the war put these activities on hold. We hope that it won't be for long.
Could you tell us how you first got involved in the LGBTI rights activism? Was this inspired by support for your son?
It happened in 2012 when my son asked me to come and help him with his public advocacy for LGBTI human rights. I was supposed to help him with interpretation because he worked with English speakers. My first obligation was interpretation, but gradually I got involved in actual activism and the fight for LGBTI human rights. I never felt sorry for my decision. This work was very much needed, and I can do it quite efficiently and achieve progress and really help people in my country.
What message would you like to send to the participants of the Baltic Pride? How can the LGBTI communities in the Baltic States support the Ukrainian LGBTI community?
We should understand that in the countries where the human rights of LGBTI community are not established yet, where the necessary laws are not in place, our Prides are the main tool and method to communicate the needs of the LGBTI community to the Government and to the society. The more active the participants will be, the closer the time when the LGBTI community will have their rights protected will be. This year the Baltic Pride, together with the March for Equality, diversity and freedom should of course add the cause of peace in the world. Nevertheless, we should all remember that these events are our marches for love, freedom, equality, diversity, democracy, and peace. Peace and freedom are our core values. The Baltic Pride is doing a lot to make Kyiv Pride happen as usual in June. We are together and we are powerful and unconquered.
Article was prepared under the framework of the project "Mainstreaming equal opportunities in twin cities (Vilnius-Oslo)". The project is funded by the Fund for Bilateral Relations of the EEA and Norwegian Financial Mechanisms 2014–2021.