Even though the obligation to regulate the gender change procedure was established in the version of Lithuanian Civil Code that came into force in 2001, Lithuania remains one of the few European countries where the possibility of changing personal documents and obtaining the necessary health services is not regulated at all. In 2007, the European Court of Human Rights ruled in the case L. v. Lithuania that the absence of gender reassignment procedure in Lithuania violates the right to the protection of private life enshrined in the Convention. More than a decade later, Strasbourg Court's ruling remains unfulfilled.
In the spring of 2017, national courts made two historic rulings requiring civil registry institutions to issue new identity documents to transgender individuals without requiring a mandatory surgical treatment. In one of the rulings, the court held that "Because the legislature has not yet adopted the law on the application of gender reassignment procedures […], the court eliminates this gap in the law, […] by stating that the term 'gender reassignment' should not be linked exclusively with irreversible change of the biological sex […]." From 2017, personal documents without the requirement for a mandatory surgical treatment were changed or is being changed through courts for around 20 transgender people with legal help from the National LGBT rights organization.
This is a great opportunity to celebrate these human rights victories. A lawyer's assistant Evelina Dobrovolska, who represented transgender people wishing to change personal documents in national courts, and three members of transgender community who have changed or are waiting to change their personal documents with help from LGL – Sarah, Lukas (changed name, known to the author) and Aleksandra – agreed to share their experiences in pursuing the ability to change their personal documents to match their gender identity.
The lawyer's assistant Evelina Dobrovolska, who represented transgender people wishing to change personal documents in national courts: "Our main goal is to assist transgender people until a simplified administrative procedure for personal document change has been adopted and approved."
Why it is important for you to represent members of transgender community in national courts?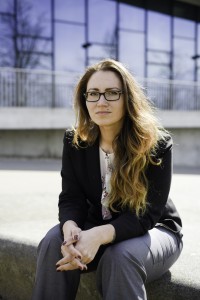 "The human rights of transgender people are guaranteed by the main international treaties, including the United Nations' Universal Declaration of Human Rights and the European Convention for the Protection of Human Rights and Fundamental Freedoms. In Lithuania, gender reassignment is not legislated, therefore the situation for transgender people remains unclear and ambiguous, since the legal act regulating gender reassignment has not been adopted as of yet. Even after the ruling of the European Court of Human Rights in the case L. v. Lithuania, the Seimas did not take the necessary steps to ensure the rights of transgender people. We are talking not only about the surgical gender reassignment, but also the correction of civil status acts and the provision of psychological help. Given the aforementioned circumstances, it is evident that transgender community is currently facing problems that it can not overcome alone. Therefore, I am pleased to be able to contribute to the implementation of transgender people rights and the development of judicial practices that are presently serving in place of what should be established with legislation."
In your opinion, will the legislature make favorable decisions for transgender community in the near future?
"Regrettably, it is difficult to assess the situation. Despite the fact that Lithuania regularly receives comments from the international community on non-compliance with human rights obligations, sometimes we hear from politicians not about plans to adopt an appropriate gender-related legislation, but about plans to ban such a procedure in general. However, we should hope that the worst case scenario will fail and government officials will pay attention to continued human rights violations. As the content of the right to reassign gender includes not only the treatment, but also other actions, and challenging reassignment in the civil status act is flawed and unfounded, and should be replaced by some administrative procedure, I hope that the decision makers will finally respond to the situation and take the necessary steps to change it."
What would you like to wish for transgender community in Lithuania?
"To be seen and heard."
What have left the biggest impression from courtroom and talking with transgender people? Could you single out some special case?
"Every time I go to sessions regarding transgender people document change, I am surprised by the empathy of our judges. The judges are honestly trying to understand the individual situation of every applicant and, while formulating their questions, ask them ethically and with respect. Personally, it is one of the indicators which shows that we can expect a brighter future."
What reaction did you get from transgender people when representing them during judicial process?
"For people who go to court, the act often triggers complex feelings, they are nervous about judicial process, and the public disclosure of their gender identity sometimes causes unpleasant experiences, therefore, applicants often decide not to attend court sessions and the documents are processed in written form. The fact that we have favourable court rulings and that people who have changed their gender records in personal documents at last have the opportunity to be themselves and participate effectively in public life is the best thanks to me."
How do you envision further cooperation with LGL in regards of transgender people changing gender records in personal documents?
"I have no doubt that we will continue to work together for the benefit of the transgender people until the main objective is achieved – a simplified administrative procedure for the change of personal identity documents and a secure environment for the self-expression of every person."
Sarah, who is building a life in the Netherlands: "The human rights situation of transgender people is completely different in the Netherlands and in Lithuania."
Sarah, who have been living outside Lithuania for many years, tells us that she has been thinking about changing personal documents for a long time. "Because I live in the Netherlands, but I am a Lithuanian citizen, I could not use the procedure for the rapid, transparent and accessible change of personal documents that is available in the Netherlands. When I first sent a request to LGL, they explained to me that Lithuanian law does not regulate the gender reassignment procedure. I was disappointed, but I continued to be in contact with the organization representing transgender people's interests. After a few years, I was informed that the transgendered community in Lithuania received a new hope of changing gender in personal documents through national courts. I did not hesitate to seize the opportunity," recounted Sarah.
"Because of my personal documents not matching my gender identity, I constantly found myself in the most bizarre situations. These experiences were not necessarily very enjoyable. It was strange that, because of Lithuanian citizenship, I could not take advantage of the opportunities offered to transgender individuals by the country in which I live. By changing personal identity documents I can finally live without additional questions in my everyday life. Finally, nobody questions my identity," rejoiced Sarah.
"I very much hope that the Lithuanian legislators will follow the progressive example of national courts and will regulate the gender reassignment procedure. I admire the courage of transgender community to resist this situation and I wish them to further pursue victories together in transgender human rights area. Perhaps due to the growing transgender people openness, the public will finally realize that we do not require any exclusive rights, only an opportunity to be ourselves," emphasized  Sarah.
Lukas, who is waiting for changed personal documents: "It will be strange when I will no longer need to constantly explain myself and will not see people's blank stares."
"For many transgender people, the possibility of changing personal documents is important. Personal identity documents which do not match gender identity cause various problems in both public and private life. Often for this reason, transgender people face various obstacles in the labour market or when meeting new people,"said Lukas, who is currently involved in legal document change process.
"I am delighted that LGL has taken leadership in addressing the long-standing problem. Perhaps it seems to various politicians that they do not need to address it, since there are not many transgender people in Lithuania. However, I believe that the rights of every Lithuanian citizen are equally important and it is necessary to ensure them. It is also meaningful to me that the only LGBT human rights organization operating in Lithuania is interested not only in lesbian, gay and bisexual people's problems," said Lukas.
"I am currently waiting for court's ruling to be enforced. There not much time left until personal documents are changed. I was lucky to have this opportunity at all. Couple years ago, transgender people could not have even dreamt about it. I was already prepared to go abroad myself because of this situation. I imagine how my life will change after receiving personal documents matching my gender identity. How good it feel when I will be able to confidently present them without fear of people's reactions. However, the situation where you regularly need to reveal to strangers that your gender does not match one in the document hardens you quite well. I feel that it will be strange when I will no longer need to constantly explain myself and will not see people's blank stares. I am confident that after receiving new personal documents I will be able to take on activities that I have not yet been able to take on, such as creating a business. I think this will make communicating with customers much easier," hoped Lukas.
"I hope that the Lithuanian legislators will make favorable decisions for transgender community in the near future. After all, courts are already changing personal documents for transgender people. I think that the judicial process is certainly not the best, but, unfortunately, it is the only available solution to the problem for now. It is most important to clearly define the criteria under which transgender personal documents would be changed. We should also organize training for doctors, as many doctors do not have the necessary knowledge about transgenderism. I would like to wish more openness and courage to the transgender people community in Lithuania. There will always be people and organizations that will support you. The main thing is not to be afraid to go your own way, "says Lukas.
Aleksandra, who changed personal identity documents: " You can be an activists in your own environment."
"Changing personal identity documents was my goal. When I realized that I was transgender, I started researching the possibility to receive documents matching my gender identity. Thanks to my and LGL joint efforts, I was successful in changing the documents. This process took about half a year. Until then, I was always questioned whether it is really my personal identity document. One time I was asked whether I hadn't stolen the document and they called the police. It was necessary to constantly explain myself and show all the documents and bank cards I had. In the end, I had no courage to show my documents and when asked I would step aside," explained Aleksandra.
"Now I feel brave and don't hesitate. Respectful and empathetic communication with the judge and the support from LGL gave me hope. Unfortunately, the attitude of Lithuanian legislators towards the issues of transgender human rights is not giving me hope. I hope that in the future specialized centres will be established in our country providing combined help for transgender individuals. After all, transgender people often need not only legal and medical but also psychological and social support. The transgender community in Lithuania lacks unity and joint activities," said Aleksandra.
"For transgender people, I would like to wish more unity and cooperation. It is not necessary for everyone to be human rights activist. It is possible to be an activist by talking openly about yourself in your own environment. After all, we are all human beings and we all should have equal opportunities. I hope that there will soon be leaders in our community who will encourage the community to meet and share their experiences," hoped Aleksandra.
LGL's legal service fund was financially supported by Amnesty International Norway, TGEU and Inter-LGBT.