On 10th-11th October, me and Veronika as LGL`s EVS (European Voluntary Service) volunteers, took part in the mid-term training organized by the Lithuanian Agency of International Youth Cooperation.
According to the Guide of Erasmus+ Programme, all EVS volunteers have the right and responsibility to attend EVS training sessions in order to receive information about the European Voluntary Service, and to receive support and tools that will help them to achieve as much as possible in the time of their service.
Basically, the Training and Evaluation Cycle for EVS volunteers consists of two sessions:
On-arrival training (only for EVS activities lasting 60 days or more) and
Mid-term evaluation meeting (only for EVS activities lasting 6 months or more).
Being part of the same LGL's EVS project – Heading towards Visibility and Equality – and not having had any on-arrival training, both Veronika and I took part in the same mid-term training. On 10th-11th October, 2016 in fact, the Comfort Hotel hosted 4 EVS volunteers: Merd, Buse, me and Veronika.
Let us start from the fact that the location, chosen for the meeting, was perfect and I would definitely recommend to overnight there! The breakfast was reach and international (so I had a very good reason to wake up in the morning! Let us admit it: food represents already half of the score for Italians; rooms and environment were clean, organized and with a very lovely smell (the other 50 % of the score … you see how easy it is to make us happy?) and … pink! Last but not least, plenty of services were provided (for example the gym, in fact Veronika enjoyed that, too). Ok, now that we have clarified that our stay was good let us move on, otherwise it will look like I am working for TripAdvisor!
The trainer – Žilvinas Mažeikis – invited us to start day 1 with team building activities aimed to teach volunteers to trust each other. We started with a blindfold exercise in which rule number one was "nobody can speak". Basically, all members of the team were blindfolded apart from the last one (the tail of the snake), who managed the group by means of physical signals. When Žilvinas decided it was time, the snake rotated so that the tail became the head and so on.
Personally, this has been my favorite exercise, because it was very stimulating, challenging and fun. The thing that I appreciated the most was that moving in different position permitted me to truly understand both difficulties and necessities that each of them implied. It was important, because it permitted to develop empathy among us.
In the afternoon, a more reflective activity has been proposed: "the six thinking hats". The objective of this game was to make us analyze our own EVS project from 6 different perspectives: facts, feelings, cautions, benefits, process and creativity. This more critical/analytical thinking exercise has been approached in different ways by each of us. For example, while Veronika used postcards and colored pencils, creating a very big and attractive poster, I went for a more schematic and basic approach (there must be a reason for my nickname "the queen of bullet points"). What I liked the most about this exercise was the discussions that followed, because it connected all of us. We exchanged opinions, impressions, advice and the teacher was particularly supportive.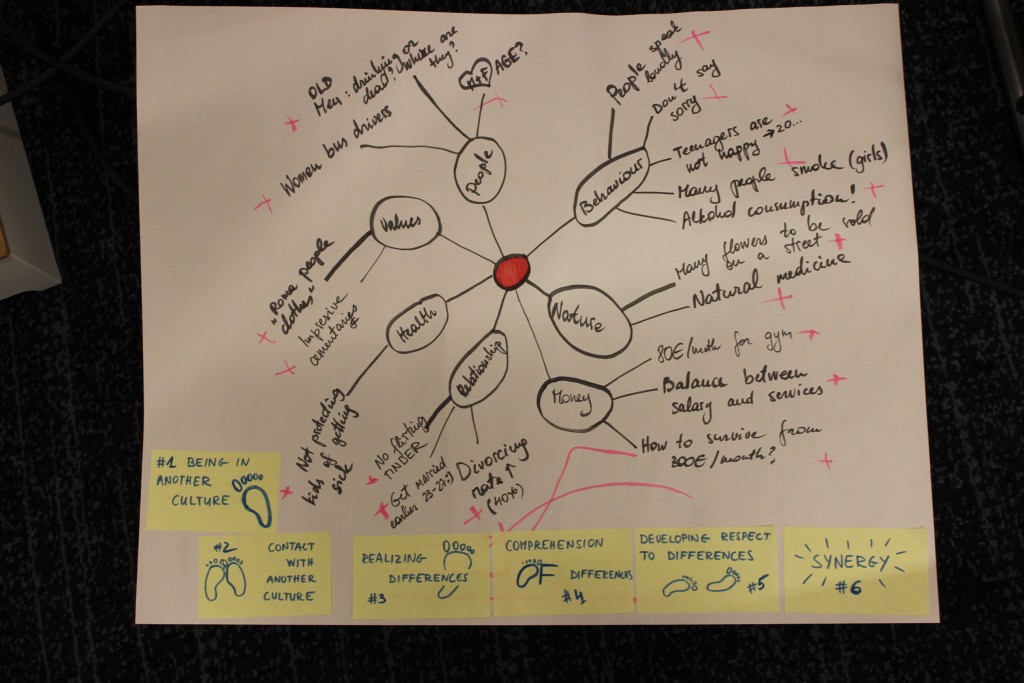 The last exercise of the day was about curiosity and investigation: what EVS volunteers do not understand about Lithuanian people and culture (the sequel was on the second day, when we went around interviewing random people, asking them to solve our doubts).
But day one could not be concluded in a more perfect way: restaurant! We went to "Kitchen", a restaurant located in the center of Vilnius where I ate the best piece of meat since I arrived in Lithuania! We talked a lot (actually Žilvinas had a big archive of funny stories to share with us) and enjoyed each other's company … it was fun!!
Day 2 was much lighter: it started with the interview I already mentioned and finished with a focus on the compilation of the Youth-Pass, a European recognition tool for non-formal and informal learning in youth work. Different cards were arranged around the room and volunteers were divided into two groups so that we could work separately.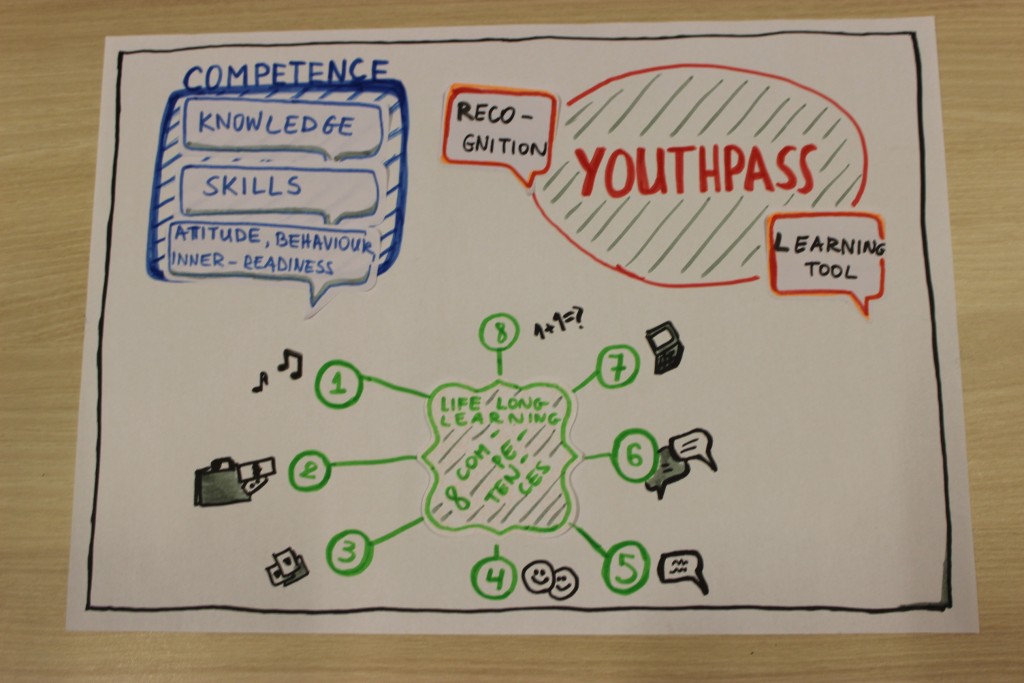 The game made us reflect on the skills acquired during our EVS experience (communication in mother's tongue, communication in foreign languages, mathematical competence and basic competence in science and technology, digital competence, social and civic competence, sense of initiative and entrepreneurship, cultural awareness and expression) and on the useful strategies to develop those not acquired yet. At the end, Žilvinas explained us the meaning of the word "competence" and all together, we analyzed the different parts the youth-pass is composed of. Finally, we practiced our writing skills and the teacher gave us few useful advices on how to fill the Youth-pass in the most proper way.
I would say that my personal opinion about our mid-term meeting is positive: we had a great teacher, professional and smart; we had a good time together and it was fun and useful to clean up my mind a little bit. Of course, personally, I would have appreciated the idea of a meeting outside Vilnius together with more volunteers. In the end, the mid-term training is also the opportunity to learn more about the country the volunteer is living in and to find people you can share this experience with.

LGL is carrying out the 10-month project "Heading Towards Visibility and Equality" under the Erasmus+ program EVS (European Voluntary Service).