In 2010 the marriage of Jóhanna Sigurðardóttir, the former Prime Minister of Iceland, and Jónína Leósdóttir, a journalist and a writer, generated media attention all around the world. After all, in addition to being the first out gay head of state in the world, Jóhanna was also Iceland's first female Prime Minister.
The couple met while working on a political committee in 1983 and later left their husbands to be together. For almost half of their relationship, they kept it a secret because they were worried about what it could do to Jóhanna's political career. However, the media were respectful of the couple's decision to not do interviews. Elected as a Prime Minister of Iceland in 2009, Jóhanna was generally thought of as responsible for leading the country away from bankruptcy and its worst financial crisis.
After Jóhanna's political career ended, the couple had more opportunities and time to take part in LGBT* community events. Jóhanna and Jónína also kindly accepted an invitation to share their story with the LGBT* community in Lithuania: the couple will participate in the "Pride Voices" event under the framework of the "Baltic Pride" 2016, taking place in the Lithuanian Russian Drama Theatre on 16th June, 2016.
It is also partly because the family are no longer in the public eye, Jónína has written a book "Jóhanna and me" (icelandic Við Jóhanna), and she thinks it might inspire others to accept their sexuality. "An autobiography was Jóhanna's idea, but it didn't take long for her to convince me to write it. We felt that we have the responsibility to share our struggles with the LGBT* community in Iceland and all over the world," says Jónína with a smile. And this is how our conversation with Jónína and Jóhanna begins.
What does participation in the Baltic Pride 2016 mean to you?
Jóhanna & Jónína: We are honoured to have been asked to speak at the Pride Voices event in Vilnius with a line-up of very interesting speakers that we look forward to meeting. We admire the dedicated people who organize the Baltic Pride 2016 and it is a pleasure to be a small part of this year's festivities.
The Baltic Pride 2016 festival will be used as a platform for challenging the discriminatory application of the "anti-gay propaganda" law and initiating the broader public discussion on legal recognition of same-sex relationships in Lithuania. What is your view on the LGBT* situation in Lithuania? 
Jóhanna & Jónína: Gay rights seem to have progressed slowly in Lithuania. In the nineties, when Icelandic politicians legalized Civil Partnerships for gays and lesbians, homosexual activity had just recently been removed from the list of illegal activities in Lithuania. So the brave people fighting for LGBT* human rights still have a lot of work ahead of them at a time of a backlash in neighbouring countries. We admire their dedication and wish them all the best.
What do you think Lithuanian LGBT* human rights defenders could learn from the victories of an LGBT* movement in Iceland?
Jóhanna & Jónína: Simply, never to give up. However, that is easier said than done. It can be very demanding to be in the front-line, fighting for LGBT* human rights. But even a small group of dedicated people can make a huge difference.
When and how did you announce to your family and friends that you are lesbian?
Jóhanna & Jónína: Our relationship was a secret for fifteen years and during that time we gradually came out to our families and friends. So there was no big announcement. Neither of us had any negative responses, but it took most people a long time to get used to this. Today, however, everyone is perfectly accepting – also our eight grandchildren.
Did you have any difficulties in your personal life or career regarding your sexual orientation?
Jóhanna & Jónína: We feel certain that it would have affected Jóhanna's career if our relationship had been out in the open right from the beginning, in 1985. But when we started living together in 2000 Icelandic society had changed so much that we had absolutely no problems.
Do you think that your story made some positive changes regarding the perception of same-sex couples in the Icelandic society?
Jóhanna & Jónína: The attitude to same-sex couples in Iceland had become so relaxed and accepting, when we started living together, that the situation in Iceland was already very good. But when Jóhanna became Prime Minister in 2009, the fact that she had a same-sex partner became of great interest around the world. The same thing happened when we changed our Civil Partnership to marriage in 2010. That was reported widely by foreign media. So, our story has probably had more effect in other countries than in Iceland.
What message would you like to send to the LGBT* community in Lithuania?
Jóhanna & Jónína: It is important for the LGBT* community to overcome prejudice, both personal and in society as a whole. But keep firmly in mind that you are simply asking for what is fair – for your feelings to be respected in the same way as the feelings of heterosexual people.
You were the first female head of Iceland's government. What challenges have you faced as a woman advancing to the highest political post? Could you tell us what brought you to the politics?
Jóhanna: It was my interest in labour issues and gender equality that initially got me involved in politics. My biggest challenge during my 35 years in politics was when I became the first female Prime Minister of Iceland in 2009, after an unprecedented economic crash in which our country almost became bankrupt. This was an extremely difficult task, especially as I was determined to do my best to protect our most vulnerable citizens from the effects of the crisis. These were the people with the lowest income who faced losing their homes after the crash.
You were also the only world leader to come out and have a same-sex spouse. Could you tell us what impact did it have on your political career? Generally would you say that being an openly gay/lesbian/bi/trans person in politics, especially at the high level makes a difference, do you perceive it as something important?
Jóhanna: The Icelandic media respected our wishes to keep a low profile, but when I became Prime Minister that was no longer possible. Our private life created interest in the global media, quite understandably, as this was the first time that a country had chosen an openly homosexual leader. But the fact that I had a same-sex partner did not have any effect on my political position or people's attitude to me as Prime Minister. People simply wanted an honest leader whom they could trust. After all, this was in 2009-2013 when attitudes to LGBT issues in Iceland had become very positive and relaxed.
What do you think about inequalities that exist in the politics?
Jóhanna: The gender inequalities that still exist in the world of politics are totally unacceptable. Thankfully, we have made good progress in Iceland, so more women now take part in politics and hold positions of power. This development can be seen in many other democracies, but in far too many countries things move far too slowly.
How did you got involved in the LGBT* activism? Do you find it important to attend Pride events?
Jóhanna: As soon as I became Prime Minister I started getting requests from all over the world about taking part in LGBT* events. During the years my Government was in power, I had no time for anything else, but since I retired from politics Jónína and I have tried to attend most of the events we have been invited to, if our schedules have allowed it. We find it very rewarding to take part and we think it is important to lend a hand, as the fight for LGBT* human rights is absolutely crucial and there are so many areas in the world where things have not even begun to move in the right direction.
What it was like to accompany Jóhanna in the official meetings as the head of the state?
Jónína: Jóhanna was so busy in Iceland, because of the effects of the economic crisis, that she didn't have much time to go on official state visits where spouses would be required to go, too. Mostly, I accompanied her to the other Nordic countries where attitudes to LGBT* issues are the same as in Iceland. But we went on a very memorable Official Visit to China in 2013 which I will discuss in my talk at Pride Voices in Vilnius.
What inspires you most as a writer?
Jónína: All my books are about relationships, in one form or another. I am fascinated by people and how they react to each other – both couples, families, friends, school-mates and colleagues.
What encouraged you to write an autobiography "Jóhanna and I"?
Jónína: Actually, it was Jóhanna's idea. She suggested it on the day we changed our Civil Partnership to a marriage – and I immediately agreed. We feel that the book is our contribution to the story of how the attitude to LGBT* issues in Icelandic society changed in an incredibly short time.
What was it like to reflect on happy moments and struggles experienced throughout the 30 years of your relationship?
Jónína: The book was difficult to write, as we had some very hard times for the first fifteen years of our relationship. It was not easy to "revisit" those times while writing. But our story has a happy ending, luckily. So it was also a joy to be able to share it with others – and hopefully encourage others to follow their heart.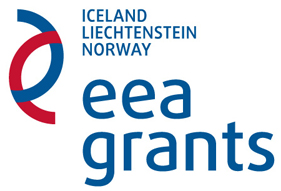 The article is published as a part of a project "The strengthening of the cooperation, as well as dissemination of good practice between LGL and Icelandic human rights activists during the Baltic Pride 2016 human rights program" which is supported by the NGO Programme Lithuania funded by EEA Grants.