Name, surname: Vladimir Simonko
Position: Co-founder and Executive Director
E-mail: vladimir@gay.lt
About the employee: I have a long experience and a strong background in working on LGBT* rights in Lithuania, acting as expert and trainer in various national and international projects and actively participating in human rights conferences. I was an organizer of the first Eastern European Conference of ILGA in Palanga in 1994 and the annual ILGA-Europe conference in Vilnius in 2007. I was also one of the main organizers of the first Baltic Pride that took place in Vilnius in 2010. Currently I serve as a member of the Lithuanian Human Rights Coalition and National Equality and Diversity Forum. I have also participated in National Working Groups on EU anti-discrimination policy and the European Year of Equal Opportunities for All (2007).
Name, surname: Eglė Kuktoraitė
Position: Communications Coordinator
E-mail: egle@gay.lt
About the employee: I got my bachelor's degree in Lithuanian philology and promotion from Vilnius University in 2012. While studying a Master's degree programme of American studies in University of Turin I realized that conscious society is a vital force in making political decisions and implementing the rights of LGBT people. Employment in LGL promises a chance to apply energy and excitement of writing to publicize LGL's humane initiatives. Therefore, if my texts would encourage a single person to a positive change – my work will be worthwhile.
Name, surname: Odeta Makaveckaitė
Position: Accountant
E-mail: odeta@gay.lt
About the employee: I got my degree in economics at Vilnius University and ever since I have been working in the fields of financial services and accountancy. I gained plenty of experience in various positions in large companies during my career. Being responsible of all financial documents and accounts I ensure that LGBT* rights activists at least don't need to take care of that. It is my small contribution to the cause! In my free time I enjoy resting in the nature, I like accompanying hunters (though, I don't use a gun). Also, I try to catch every opportunity to fly to European capitals – I adore travelling!
Name, surname: Tomas Vytautas Raskevičius
Position: Policy Coordinator (Human Rights)
E-mail: tomas@gay.lt
About the employee: I graduated from the Institute of International Relations and Political Science (Vilnius University) in 2011. In summer 2012 I acquired master's degree in Human Rights Law from Central European University (Budapest, Hungary). In the course of my studies, I have interned in the US Embassy Vilnius, the Ministry of Foreign Affairs, the Hungarian LGBT organization Háttér and at the Brooklyn Community Pride Center (New York City, US). After graduation I was eager to work in the field of human rights, therefore I was very excited to join the LGL's team in 2012. My duties entail management of organization's correspondence, administration of the LGL's social communication channels, as well as preparation of various application forms and reports. In addition to this, I am in charge of trans* issues within the organization's activities, as well as human rights issues in relation to the United Nations and the Council of Europe human rights protection mechanisms. I persistently try to apply the quote by Harvey Milk, namely – "If I turned around every time somebody called me a faggot, I'd be walking backward – and I don't want to walk backward." – in my daily life. I cannot imagine independent Lithuania, where people are classified into "first-class" and "second-class" citizens. Therefore, I am very happy to be able to use my knowledge, determination and passion in pursuit that everyone of us feels like at home in our society.
Name, surname: Aistė Aleckūnaitė
Position: Project Coordinator
E-mail: aiste@gay.lt
About the employee: I graduated psychology and sociology degree at Queen Margaret University in Edinburgh, Scotland in 2015. Now I am studying "Mindfulness based cognitive behavioural therapy" at Institute of Neuromedicine, Lithuanian University of Health Sciences. I have chosen those studies because I have always been interested in individual's physical and mental health as well as social influence for individual's quality of life. For a long time living between Lithuania and the Great Britain I saw that the increase or decrease in the sense of public safety strongly depends on the level of tolerance of people living in the particular country and their ability to accept other humans. Therefore, I believe that my vision of open, tolerant, secure Lithuania will be a good step forward by realizing the implementation of the goals and objectives of this anti-discrimination project.
Name: Mindaugas
Position: intern
E-mail: mindaugas@gay.lt
About the intern: I learned about LGL when I was 16. Being a proactive person who was inspired by this organization's work, I was already thinking about contributing even then. So 3 years later, when I moved to Vilnius to study, I got involved with LGL. Shortly after I started coming to community events, I also began volunteering. I study visual advertising production at the Vilnius Vocational Training Center for Service Industry Workers, and I thought that an internship LGL very much suited my interests. At LGL, I can contribute not only to advertising, but also to other activities that interest me, like projects and events. During my internship, I hope to contribute more to empowering the LGBT* community, expanding my knowledge and gaining new experiences.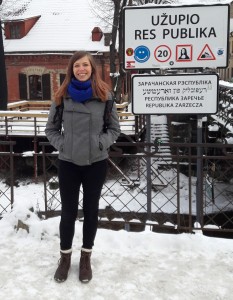 Name: Josie
Position: Intern
E-mail: josefineschaefer@web.de
About the intern: I'm an Erasmus+ student from Germany and I'm spending a semester in Vilnius to study social work at Mykolas Romeris University. I've been interested in LGBT* topics for some time but I've never actively participated in any advocacy or community work before. My home university requires me to do an internship while abroad and when I heard of LGL I thought of it as the perfect opportunity to gain some experience if both the LGBT* field as well as in community work. I also want to learn about how advocacy work works in practice, since I've only seen the theoretical side through my studies. I wanted to work in this field among others because I know the LGBT* community isn't as accepted in Lithuania as it is in Germany, and I want to help better the situation for queer people here. Since I'm doing the internship while studying it will only be part time, but I'm very excited to be organizing the Book Club during my time here and to help with any other projects!